Veggie Packed Chicken Fried Rice
Fit For Life Physical Therapy
Rebecca Youngs, MS, RD, LD
I was trying to use up some of my pantry staples the other night and remembered my recipe for fried rice! This is a healthier and cheaper version of take-out where you can control the amount of salt, vegetables, and ingredients that you are using. Add in a variety of vegetables like broccoli, water chestnuts, baby corn, and snow peas. Switch up the protein by using tofu, steak, shrimp, or salmon. A great way to use up leftovers is to make lettuce wraps with the fried rice and large pieces of lettuce with a little bit of tamari sauce on top!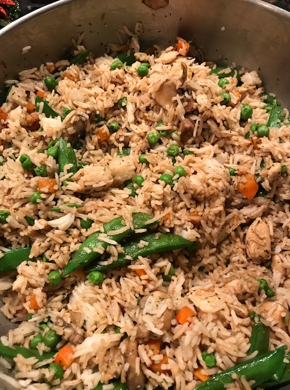 Ingredients
1 lb. boneless, skinless chicken breasts
1 ½ cup of Basmati or Brown rice
1 cup of riced cauliflower, frozen or fresh
1 cup of sliced mushrooms
1 cup sugar snap peas
¾ cup of frozen peas
½ cup frozen carrots
¼ cup of onion
2 eggs
¼- ½ cup of reduced sodium soy sauce or Liquid Aminos
1 tsp. sesame oil
Avocado or olive oil
Garlic powder
Salt
Pepper
1-2 Tbsp. fresh ginger, optional
Directions
In a pot, combine rice of choice and water. Cook according to package directions. Set aside.
Using a sharp knife, diced raw chicken breasts in 1-inch cubes.
In a large skillet, heat 1-2 Tbsp. of avocado oil. Add in the chicken and sauté. Season with salt, pepper, and garlic powder. Once cooked, remove the chicken and place in a bowl.
Add an additional 2 tablespoons of avocado oil and sesame oil. Add in the onion and sauté until translucent. Add in the mushrooms and sugar snap peas. Cook for 5 minute or until soft. Add in the frozen peas, carrots, and riced cauliflower, and heat until warm and combined with the other vegetables.
Move the vegetables to the side and crack two eggs. Scramble until cooked. Mix the eggs and vegetables together. Add in the ginger and cook for 1-2 minutes. Add in the chicken and rice. Stir and then add in the soy sauce or Liquid Aminos. Toss until everything is combined.
Serve warm with chopped scallions and crushed cashews.
Registered & Licensed Dietitian Rebecca Youngs is an avid marathoner, loves to work out, and has specialized her practice in gastrointestinal health, as well as sports nutrition and fueling athletes of all levels. She is available for individual consultations at Fit For Life Physical Therapy or through zoom video conference.
Fit For Life Physical Therapy cares for people of all activity levels - to help prevent, recover from, or rehabilitate sports & orthopedic injuries. We are proud to move people every day.
Please visit our website https://www.fitforlifephysicaltherapy.com/, email us at info@fitforlifephysicaltherapy.com, or call or text us at any of the phone numbers for our three convenient locations inside Fleet Feet/FrontRunner stores:
Polaris: 1270 East Powell Road Lewis Center, Ohio 43035 ~ 614-981-2065
Upper Arlington: 1344 West Lane Avenue, Columbus, Ohio 43221 ~ 614-981-1979
New Albany: 5792 North Hamilton Road, Columbus, Ohio 43230 ~ 614-581-7441