Vegan Dark Chocolate Raspberry Cups
Fit For Life Physical Therapy
Rebecca Youngs, MS, RD, LD
A perfect sweet treat to end a meal! I like the combination of raspberry and chocolate, but feel free to use strawberry or blueberry preserves. If you can't find dark cocoa powder, milk chocolate works just as well!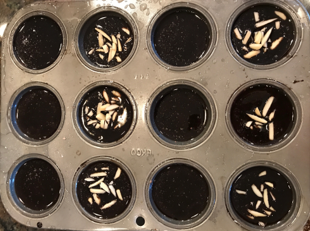 Ingredients
1/2 cup + 2 Tbsp coconut oil
1/2 cup + 1 tsp dark cocoa powder
1 Tbsp maple syrup
3 Tbsp honey
1/2 tsp vanilla extract
3 Tbsp. raspberry preserves
Sea salt
Slivered almonds or coconut flakes, optional
Directions
In a saucepan, melt the coconut oil until fluid. Add in the cocoa powder, maple syrup, honey, and vanilla extract. Whisk together at a low temperature. Add in the raspberry preserves and mix.
Once combined, ladle the mixture into mini muffin tins.
Top with a sprinkle of salt and top with additional toppings like almonds, coconut flakes, or dried fruit.
Put into the freezer for at least 5 hours until hardened and set. Serve cold and store in the freezer for up to 2 weeks.
Registered & Licensed Dietitian Rebecca Youngs is an avid marathoner, loves to work out, and has specialized her practice in gastrointestinal health, as well as sports nutrition and fueling athletes of all levels. She is available for individual consultations at Fit For Life Physical Therapy or through zoom video conference.
Fit For Life Physical Therapy cares for people of all activity levels - to help prevent, recover from, or rehabilitate sports & orthopedic injuries. We are proud to move people every day.
Please visit our website https://www.fitforlifephysicaltherapy.com/, email us at info@fitforlifephysicaltherapy.com, or call or text us at any of the phone numbers for our three convenient locations inside Fleet Feet/FrontRunner stores:
Polaris: 1270 East Powell Road Lewis Center, Ohio 43035 ~ 614-981-2065
Upper Arlington: 1344 West Lane Avenue, Columbus, Ohio 43221 ~ 614-981-1979
New Albany: 5792 North Hamilton Road, Columbus, Ohio 43230 ~ 614-581-7441