Shoulder & Neck Pain and Running Mechanics
Blake Preece, P.T., D.P.T.
Fit For Life Physical Therapy
Running mostly uses my legs, right? So why do my neck and shoulders feel so stiff and sore after a run or walk? Pain in these areas while running or walking can be more common than one may think. Running is a physical activity that not only involves the kinetic chain of your legs, but also is reliant on a strong core and upper kinetic chain. If these areas have weakness or tightness, you may find that you're having neck or shoulder pain during or following those long mileage days. If these complaints sound like something you've experienced, consider trialing some of the following solutions:


Keep your head up!

Try not to look down while running which places increased stress through the cervical spine and increased stretch on your spinal musculature. The most common postural problems come from forward rounded shoulders, increased upper back kyphosis (

exaggerated, forward rounding of the upper back

spine), and poor neck posture. Think about keeping your head up while running to reduce developing tension. One often shared tip is to think about there being a string attached to the top of your head that is tugging upwards. Your goal is to remain slightly tilted forward, but to focus on lengthening through your cervical spine.

Relax your shoulders!

If you feel yourself hiking your shoulders up, think about relaxing and keeping your arms by your side. Avoid allowing your arms to swing across your body, which not only places increased stress through the shoulder complex, but also reduces the efficiency of your running form.

Stretch your neck, chest, and shoulders!

Tight pectoralis musculature can be one cause of increased forward rounded shoulder posture. Try stretching areas that are more likely to become tight due to our everyday lives (i.e upper traps, pectoralis minor, levator scapulae). Try performing the following stretches, shown below. Hold each stretch for 30-seconds and perform 3-repetitions of each. You can perform these stretches 1-2 times per day to help improve muscle length.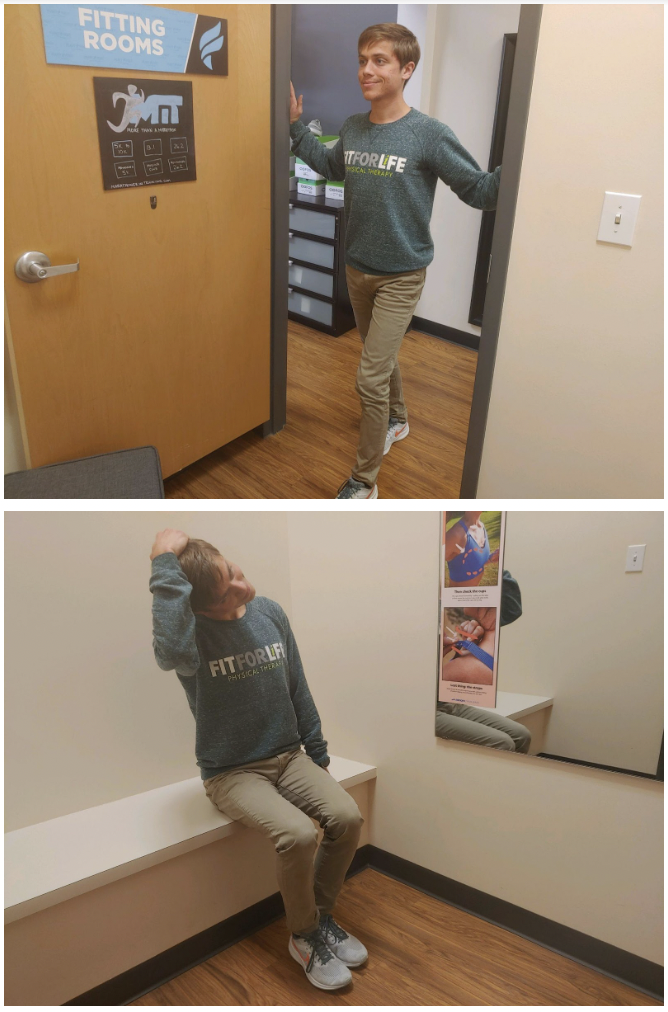 4. Strengthen your core! Having strong deep core musculature is helpful in improving your running posture, allowing you to stay more upright. It is easy to get focused on your "6-pack abs" but we have much deeper layers of abdominal musculature that wrap around and stabilize your low back. Research has shown that insufficient strength of the deep core musculature may increase a runner's risk of developing low back pain.
Please feel free to contact us at Fit For Life Physical Therapy if you have any questions regarding neck and shoulder pain while running or walking and about how to strengthen your deep core musculature. Our physical therapists are skilled at performing running gait analysis and can break down your form and show you ways that you can improve your form to be the best version of yourself.
Fit For Life Physical Therapy cares for people of all activity levels - to help prevent, recover from, or rehabilitate sports & orthopedic injuries. We are proud to move people every day.
Please visit our website https://www.fitforlifephysicaltherapy.com/, email us at info@fitforlifephysicaltherapy.com, or call or text us at any of the phone numbers for our three convenient locations inside Fleet Feet/FrontRunner stores:
Polaris: 1270 East Powell Road Lewis Center, Ohio 43035 ~ 614-981-2065
Upper Arlington: 1344 West Lane Avenue, Columbus, Ohio 43221 ~ 614-981-1979
New Albany: 5792 North Hamilton Road, Columbus, Ohio 43230 ~ 614-581-7441