Vegetable Frittata
Fit For Life Physical Therapy
Rebecca Youngs, MS, RD, LD
A hearty, vegetable packed, high protein meal that can be eaten for breakfast, lunch, or dinner! I love making a double batch, cutting it into fourths, and storing it in a container in the fridge for an easy breakfast right after my workout. The best part about eating this frittata? No utensils require
I love to use whole eggs in this recipe instead of egg whites. Egg yolks contain all the nutrition in the egg such as healthy fats, protein, folate, omega-3 fatty acids, and vitamin B12. The yolks also contain choline, a nutrient critical for muscle movement, metabolism, and energy generation. Choline is also part of neurotransmitters that are used throughout the body. Feel free to switch up the vegetables and use whatever you have on hand! I love to make this to clean out the refrigerator. I love adding peppers, squash, cooked sweet potato, tomatoes, or eggplant.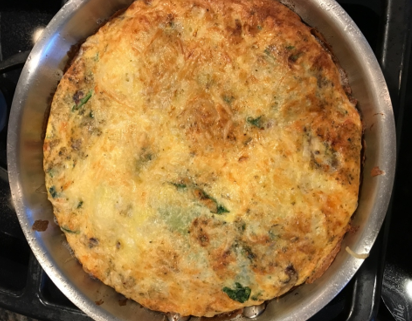 Ingredients
¾ cup of diced Portobello mushrooms
1/3 cup of chopped zucchini
4 eggs
2 Tbsp. milk, substitute plant-based milk if needed
¼ tsp. garlic powder
½ tsp. Italian seasoning
¼ tsp. dried dill
2 Tbsp. of fresh parsley
Salt
Pepper
1 Tbsp. grated Parmesan cheese
1 ½ Tbsp. olive oil
Cooking spray
½ cup of spinach or baby kale
¼ cup of Swiss, Provolone, or Mozzarella cheese
Directions
Preheat the oven to 425 degrees.
Dice Portobello mushrooms and zucchini, set aside. In a small bowl, combine the eggs, milk, garlic powder, Italian seasoning, dill, parsley, salt, pepper, and Parmesan cheese. Whisk together.
Spray a medium sized skillet with coconut oil or cooking spray. Add in the olive oil. Sauté the mushrooms and zucchini until soft. Spray the pan again with cooking spray. Add the egg mixture to the vegetables. Using a spatula, mix around slightly. Over medium heat, cook the egg mixture until it starts to set. Do not mix! Add in the spinach, cheese, and nestle it under the remaining liquid on top.
After 5-7 minutes, top with an additional 2 Tbsp. of cheese.
Place into the oven and cook for 5 minutes or until any additional egg mixture is cooked and set. Broil for 3 minutes to get a golden-brown top.
Using oven mitts, remove the pan from the oven and allow it to cool for 5 minutes. Use a spatula to loosen the edges and slide onto a plate.
Serve warm with avocado toast or eat cold with a salad!
Fit For Life Physical Therapy cares for people of all activity levels - to help prevent, recover from, or rehabilitate sports & orthopedic injuries. We are proud to move people every day.
Please visit our website https://www.fitforlifephysicaltherapy.com/, email us at info@fitforlifephysicaltherapy.com, or call or text us at any of the phone numbers for our three convenient locations inside Fleet Feet/FrontRunner stores:
Polaris: 1270 East Powell Road Lewis Center, Ohio 43035 ~ 614-981-2065
Upper Arlington: 1344 West Lane Avenue, Columbus, Ohio 43221 ~ 614-981-1979
New Albany: 5792 North Hamilton Road, Columbus, Ohio 43230 ~ 614-581-7441