Quick Muesli
Fit For Life Physical Therapy
Rebecca Youngs, MS, RD, LD
This recipe is one that my grandma passed down to my mom…the to me, with my added touch of course! It is easy, requires only 5 minutes, and it can be used in so many ways!
Muesli is by far one of the easiest things to throw together. It is like granola, except not baked. Try switching up the nuts and dried fruit to make different flavor combinations like pumpkin spice with nutmeg, pecans, walnuts, freeze-dried apple, and cranberries! This is a straightforward way to grab a breakfast that is full of fiber, protein, carbohydrates, and healthy fats. How should you enjoy? Soak the mixture in milk overnight for quick overnight oats, mix in Greek yogurt and let sit for 10 minutes, or bake into muffins!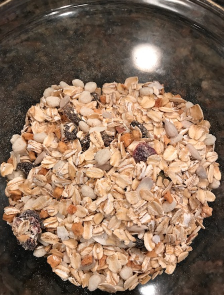 Ingredients
3 cups old fashioned rolled oats
1 cup raw sliced almonds
1 cup dried, unsweetened coconut
½ cup sunflower seeds
1 cup raisins or cranberries
1 cup puffed rice
¼ cup ground flax seed
½ cup dried mango or apple, diced small, optional
½ cup pumpkin seeds, optional
1 tsp. cinnamon
½ tsp. salt
Directions – Combine all ingredients into a bowl and mix. Store in an airtight container.
Registered & Licensed Dietitian Rebecca Youngs is an avid marathoner, loves to work out, and has specialized her practice in gastrointestinal health, as well as sports nutrition and fueling athletes of all levels. She is available for individual consultations at Fit For Life Physical Therapy or through zoom video conference.
Fit For Life Physical Therapy cares for people of all activity levels - to help prevent, recover from, or rehabilitate sports & orthopedic injuries. We are proud to move people every day.
Please visit our website https://www.fitforlifephysicaltherapy.com/, email us at info@fitforlifephysicaltherapy.com, or call or text us at any of the phone numbers for our three convenient locations inside Fleet Feet/FrontRunner stores:
Polaris: 1270 East Powell Road Lewis Center, Ohio 43035 ~ 614-981-2065
Upper Arlington: 1344 West Lane Avenue, Columbus, Ohio 43221 ~ 614-981-1979
New Albany: 5792 North Hamilton Road, Columbus, Ohio 43230 ~ 614-581-7441