No Bake Peanut Butter Granola Bars
Fit For Life Physical Therapy
Rebecca Youngs, MS, RD, LD
These one-bowl, easy-to-make granola bars are great to have on hand throughout the week for a snack or paired with protein like Greek yogurt for a balanced breakfast. Feel free to change up the mix-ins to raisins, mini chocolate chips, peanuts, or dried blueberries.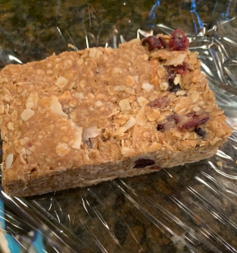 Ingredients
3 cups of rolled oats
1 ¼ cups of peanut butter
¼ cup maple syrup
¼ cup honey
½ tsp salt
1 tsp vanilla extract
½ tsp cinnamon
½ cup dried cranberries
¼ cup slivered almonds
¼ cup unsweetened coconut flakes
Directions
In a large bowl, add all ingredients.
Mix well. If the mixture seems dry, add more peanut butter. Spread into an 8x8 baking pan and press down with the back of a spatula or a clean hand.
Place in the refrigerator for 3 hours to set.
Remove from the refrigerator and slice into 8 bars. Wrap individually and store in a bag in the refrigerator for up to 2 weeks.
Registered & Licensed Dietitian Rebecca Youngs is an avid marathoner, loves to work out, and has specialized her practice in gastrointestinal health, as well as sports nutrition and fueling athletes of all levels. She is available for individual consultations at Fit For Life Physical Therapy or through zoom video conference.
Fit For Life Physical Therapy cares for people of all activity levels - to help prevent, recover from, or rehabilitate sports & orthopedic injuries. We are proud to move people every day.
Please visit our website https://www.fitforlifephysicaltherapy.com/, email us at info@fitforlifephysicaltherapy.com, or call or text us at any of the phone numbers for our three convenient locations inside Fleet Feet/FrontRunner stores:
Polaris: 1270 East Powell Road Lewis Center, Ohio 43035 ~ 614-981-2065
Upper Arlington: 1344 West Lane Avenue, Columbus, Ohio 43221 ~ 614-981-1979
New Albany: 5792 North Hamilton Road, Columbus, Ohio 43230 ~ 614-581-7441