Chocolate Chip Banana Bread Cookies (GF, Vegan, Dairy-free)
Fit For Life Physical Therapy
Rebecca Youngs, MS, RD, LD
A twist on a common breakfast staple turned into a cookie that can be eaten at any time during the day! These have a cake like texture and will expand larger than you think, so space them wisely!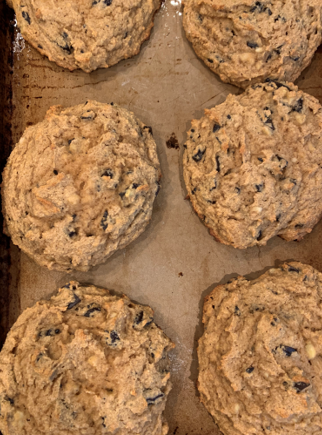 Ingredients
2 very ripe bananas
4 Tbsp. maple syrup
2 Tbsp. honey
1 Tbsp. vanilla extract
1 tsp. coconut oil, melted and cooled
4 Tbsp. creamy almond or peanut butter
1 Tbsp. brown sugar (optional)
2 eggs
½ tsp. cinnamon
Pinch of salt
½ cup almond flour/almond meal
½ cup coconut flour + 2 Tbsp.
½ tsp. baking powder
1 tsp. baking soda
½- ¾ cup of chocolate chips
Directions
Preheat the oven to 350 degrees.
In a large bowl mash the banana. Add all the wet ingredients.
In a separate bowl, add all the dry ingredients except the chocolate chips.
Fold in the chocolate chips.
Lightly spray a cookie sheet.
Form the batter into 8-10 cookies.
Bake for 13-15 min until slightly golden around the edge.
Cool on the cookie sheet for 3 min, then remove and place on a cooling rack to stop the cooking.
Store in a container in the refrigerator for up to 5 days.
Fit For Life Physical Therapy cares for people of all activity levels - to help prevent, recover from, or rehabilitate sports & orthopedic injuries. We are proud to move people every day.
Please visit our website https://www.fitforlifephysicaltherapy.com/, email us at info@fitforlifephysicaltherapy.com, or call or text us at any of the phone numbers for our three convenient locations inside Fleet Feet/FrontRunner stores:
Polaris: 1270 East Powell Road Lewis Center, Ohio 43035 ~ 614-981-2065
Upper Arlington: 1344 West Lane Avenue, Columbus, Ohio 43221 ~ 614-981-1979
New Albany: 5792 North Hamilton Road, Columbus, Ohio 43230 ~ 614-581-7441