Apple Raisin Snack Bites
Fit For Life Physical Therapy
Rebecca Youngs, MS, RD, LD
This is a recipe that is so easy to make, requires minimal ingredients, and does not need any baking! Eat these on their own, add them to a yogurt parfait, or crumble on top of toast with nut butter!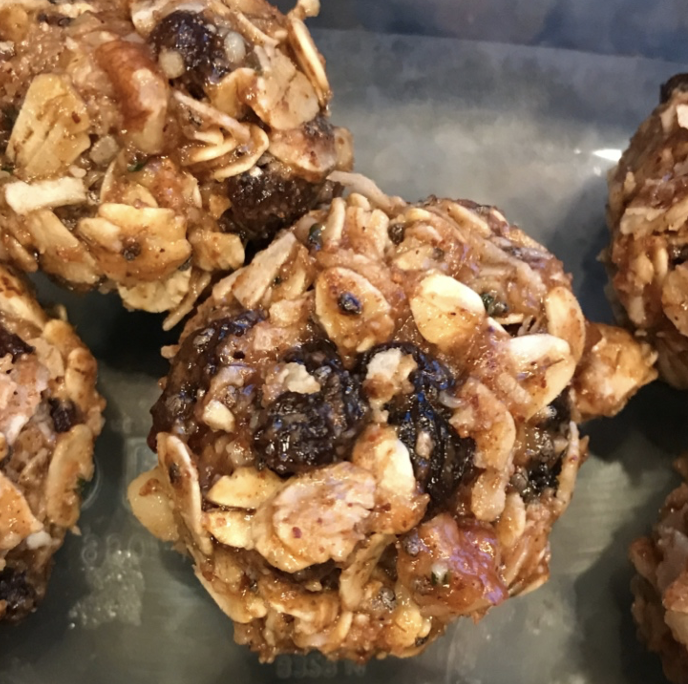 Key nutrients and tricks:
Feel free to add in other nutrition powerhouses like wheat germ, flax, maca powder, oat bran, or other spices like ginger and nutmeg.
This recipe has a nice balance of fat from the hemp hearts, nuts, and coconut, carbohydrates from the oats, apples, and raisins, and protein from the chia seeds and almond butter.
I love to eat a few of these before an early morning run. The dried fruit provides a natural source of sugar, which can replace an energy gel or chew.
Use this recipe and change the flavors by adding in freeze-dried strawberries and cocoa powder in place of the apples and cinnamon, dates and almonds, or coffee and peanut butter.
Sometimes I double this recipe and freeze the second batch. I simply defrost in the fridge, and they are ready to go for the week!
If you want the bites to be moister, add in half of a mashed banana.
Ingredients
1 cup of old-fashioned oats
1 Tbsp. of hemp hearts
2 tsp. of chia seeds
¼ cup of chopped walnuts or pecans
¼ cup of unsweetened, shredded coconut
¾ tsp. of cinnamon
Dash of salt
1/3 cup of diced apple
½ tsp. vanilla
¼ cup + 3 Tbsp. of almond butter
4 Tbsp. honey
¼ cup of raisins
Directions
In a large bowl combine all ingredients. Mix until the almond butter and honey has coated the oats and apples. Place the mixture in the refrigerator for 30-45 minutes.
Using a spoon, scoop out a small amount of the mixture and roll into a ball. The size can vary, but I try to get 10-14 bites.
To store, place the balls on parchment paper in an airtight container and keep it in the fridge.
Registered & Licensed Dietitian Rebecca Youngs is an avid marathoner, loves to work out, and has specialized her practice in gastrointestinal health, as well as sports nutrition and fueling athletes of all levels. She is available for individual consultations at Fit For Life Physical Therapy or through zoom video conference.
Fit For Life Physical Therapy cares for people of all activity levels - to help prevent, recover from, or rehabilitate sports & orthopedic injuries. We are proud to move people every day.
Please visit our website https://www.fitforlifephysicaltherapy.com/, email us at info@fitforlifephysicaltherapy.com, or call or text us at any of the phone numbers for our three convenient locations inside Fleet Feet/FrontRunner stores:
Polaris: 1270 East Powell Road Lewis Center, Ohio 43035 ~ 614-981-2065
Upper Arlington: 1344 West Lane Avenue, Columbus, Ohio 43221 ~ 614-981-1979
New Albany: 5792 North Hamilton Road, Columbus, Ohio 43230 ~ 614-581-7441