What a Pain in my Ankle
Amanda Coleman, PT, MPT, OCS
Fit For Life Physical Therapy
Although you may or may not remember any specific injury, you have developed pain on the outside of your ankle and/or foot that is getting worse and limiting your ability to do weight bearing activities.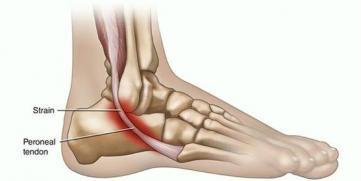 What is happening and how can you help it get better? A potential cause of your symptoms is peroneal tendonitis or tendinopathy. The first line of defense is "active rest," ice, compression sock, and elevation since it is an overuse condition often aggravated by changes in type, duration, and intensity of activity. Active rest includes a quick course of gentle range of motion, stretching, and strengthening.
If the pain prevents you from weight bearing or the condition does not improve within a week, consultation with a physician or a Fit For Life Physical Therapist is recommended to rule out other more serious pathology such as fractures.
You have seen your physician or FFL and it has been confirmed you have peroneal tendonitis. What does that mean? Well, you have two muscles on the outside of your lower leg (peroneus longus and peroneus brevis) that wrap around your ankle as tendons and attach to your first (longus) or fifth (brevis) toe.
These muscles are responsible for moving your ankle outward (eversion) and downward like pushing on the gas pedal (plantarflexion). In the initial stage of the tendon injury, the body undergoes an inflammatory response. However, if the condition persists, as is common if adequate rest was not achieved, then the condition can progress to the non-inflammatory phase of tendinopathy. Tendinopathy is a fancy way of saying the tendon tissue consistency has changed making the tissue weak and persistently painful.
A few factors that can lead to these conditions include ankle instability such as from prior ankle sprains, or anatomical factors like having a high foot arch (pes cavus). Participation in physical therapy is one potential remedy for addressing some of these factors. A FFL physical therapist can conduct a full evaluation and devise a custom rehabilitation program that will focus on the aspects of your body function that are contributing to your condition. The best part is that the goal of therapy is the same as yours: Getting you back to enjoying your active life whatever that means to you.
Fit For Life Physical Therapy cares for people of all activity levels - to help prevent, recover from, or rehabilitate sports & orthopedic injuries. We are proud to move people every day.
Please visit our website https://www.fitforlifephysicaltherapy.com/, email us at info@fitforlifephysicaltherapy.com, or call or text us at any of the phone numbers for our three convenient locations inside Fleet Feet/FrontRunner stores:
Polaris: 1270 East Powell Road Lewis Center, Ohio 43035 ~ 614-981-2065
Upper Arlington: 1344 West Lane Avenue, Columbus, Ohio 43221 ~ 614-981-1979
New Albany: 5792 North Hamilton Road, Columbus, Ohio 43230 ~ 614-581-7441