Intrinsic Foot Strength
Blake Preece, P.T., D.P.T.
Fit For Life Physical Therapy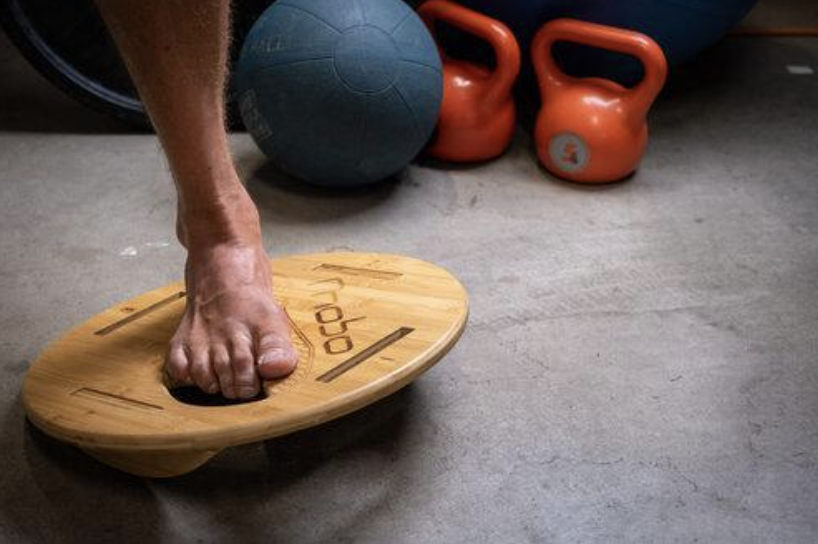 The foot is a complex mechanical structure of the human body composed of 33 joints, 26 bones, and more than a hundred muscles, tendons, and ligaments. But hey, who is counting? To put it simply, there is a lot going on in a very small space!
All these components work together to help transmit ground reaction forces and allow for movement. As runners and walkers, we can get caught up with what we have ON our feet, but what about what we have IN our feet? Our small foot muscles, also known as our intrinsic foot muscles, help strengthen and support the bony arches of our feet. Improving the strength of these muscles, as well as the stability of our larger ankle structure, can help reduce our risk for injury.
Beyond just the physiological structures of our feet, we also have an incredible neuromuscular system that provides us feedback to maintain body stability and orientation during static and dynamic activities. Proprioception is our body's ability to know where our joints are in space. After injury, this ability becomes disrupted and we can be more susceptible to injury (i.e., recurrent lateral ankle sprains).
During the gait cycle, our feet naturally roll from heel to toe and from a supinated position to a pronated position. Supination refers to the rolling movement of the foot in which most of the weight of the body is transferred to the outer edge of the foot. Pronation is the natural inward rolling motion of our foot. The pronation motion is a very normal movement pattern of the foot. The problem comes, however, with excessive foot pronation. When this occurs, additional stress is placed on joints and soft tissues of our feet that may lead to injury with repetitive physical activities, like running or walking a half or full marathon.

That's where balance tools like the BOSU ball, the BAPs board, and the MOBO come in. MOBO is designed to help improve your ankle proprioception and stability. It is a balancing tool that develops functional movement patterns of your foot with a unique design and structure. The board rocks in those specific foot pronation and supination motions mentioned above and allow you to train your ability to control these forces, by increasing intrinsic and extrinsic foot/ankle strength.
One of our favorite FFL exercises to perform on the MOBO board is a single leg rocking exercise. For this, one stands on the MOBO board and then must control the diagonal rocking motions of the board. By changing the position of the bottom rockers, one can focus on challenging their ankle inverters vs. their ankle evertors, attenuating pronation and supination movements.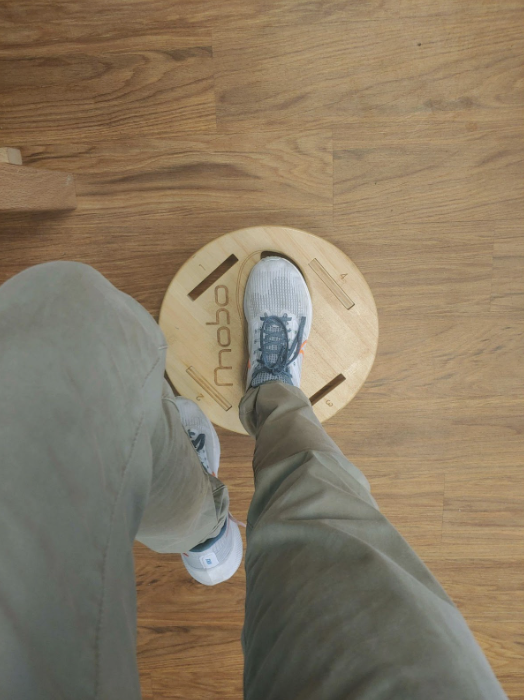 This is also a great tool for working on single leg strengthening and stability exercises that are crucial to running. Exercises like our "steamboats" and "standing clamshell" exercises are just some of the many ways that you can challenge your leg strength and stability while also incorporating your small intrinsic foot muscles.
Please feel free to contact us at Fit For Life Physical Therapy if you have any questions about how to incorporate ankle and foot strengthening and stability exercises into your normal routine to reduce the risk of injury. Fit For Life Physical Therapy cares for people of all activity levels - to help prevent, recover from, or rehabilitate sports & orthopedic injuries. We are proud to move people every day.

Please visit our website https://www.fitforlifephysicaltherapy.com/, email us at info@fitforlifephysicaltherapy.com, or call or text us at any of the phone numbers for our three convenient locations inside Fleet Feet/FrontRunner stores:
Polaris: 1270 East Powell Road Lewis Center, Ohio 43035 ~ 614-981-2065
Upper Arlington: 1344 West Lane Avenue, Columbus, Ohio 43221 ~ 614-981-1979
New Albany: 5792 North Hamilton Road, Columbus, Ohio 43230 ~ 614-581-7441