Iliotibial Band Syndrome
Chris Lawson, PT, DPT
Laura Comtois, PT, DPT
Fit For Life Physical Therapy
Among runners and walkers, Iliotibial Band Syndrome creates pain most felt on the outside of the knee during running. This injury can stop an athlete in their tracks, and if you have run or walked long enough, you've either had it, or you know someone who has experienced it.
What is it? The Iliotibial Band (ITB), is a thick fascial band (compare to several ziploc bags stacked on top of each other) that attaches to the pelvis via the Tensor Fascia Latae (TFL) muscle (see picture) and to lateral tubercle of the femur at the knee, with a slip tendon to the proximal tibia, your upper shin bone. It does not stretch, but this connective tissue and other soft tissues around it can be rolled for improved mobility.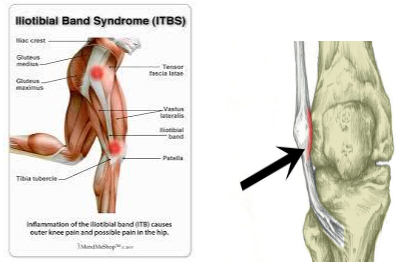 What are the symptoms? IT Band irritation symptoms could range from simply feeling tight to sharp and stabby, usually on the outside of the knee, but sometimes along the band or near the attachment at the hip. It can also be tight and sensitive to touch. When symptoms are more irritable, sitting, crossing legs, and going up or down stairs can also cause pain.
Why does it get irritated? There are a couple ways in which the ITB may become irritated. There could be an increase in tension at the TFL muscle near the hip that could increase the tension on the ITB. More commonly, due to weakness at the hip, the forces through the ITB are increased, causing friction at the knee, and therefore, pain on the outside of the knee.
As noted in the picture above, when the hip is weakened (gluteus medius muscle is typically the weak culprit), this muscle imbalance causes the hips to tip and this increases the shear forces through the ITB on the weak side.
How do I manage symptoms short and long term?
Short term: Reducing forces through the leg by adjusting mileage may help, as well as ice, and foam rolling. Kinesiotaping, if you know how to do this, could also be helpful.
To improve this injury long-term, and prevent reoccurrence, it is most helpful to have an assessment of your flexibility and strength, as well as a physical therapy assessment of your running patterns to understand the root of the problem – usually those muscle imbalances we've described. Hip strengthening, stretching, and tissue mobilization is often a part of the treatment strategy and can be guided by a sports medicine physical therapist.
What exercises will help with this?
As mentioned, a weak gluteus medius is often a contributing factor for IT Band syndrome. When healthy and strong, this muscle helps to stabilize the pelvis to avoid the hip dropping or tipping down on one side. If weak, you must strengthen this muscle. One way is with side-lying straight leg raises - lay on your side and raise your leg slowly up and down. You may perform 1-3 sets of 10 repetitions, as you are able. However, make sure to avoid turning the foot towards the ceiling and letting the top hip roll back.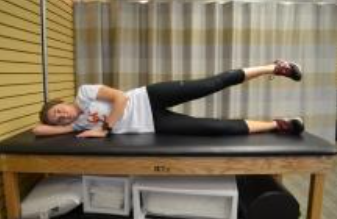 The IT Band may become tight due to a tight TFL muscle which connects the upper portion of the IT Band to the pelvis. Remember, the key to relieving this IT Band pain is to balance out these imbalances! So, to stretch this muscle on the right side, stand with your left leg forward and right leg behind. Place your right hand on wall or other support and push hip out to the right (as pictured below) and slightly forward. This stretch should be felt in the front/outer side of the hip. Hold for 3 sets of 30 seconds.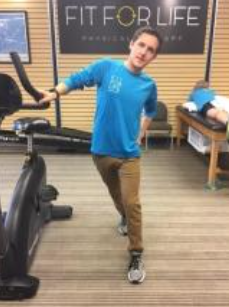 Now you know what causes IT Band syndrome and a few ways to self-manage it. If you have tried these recommendations and arep still having pain with running or walking, Fit For Life Physical Therapy is here to help! Our specialized physical therapists can evaluate your running form, determine if you have muscle imbalances (weak or tight muscles), provide you an individualized exercise program to improve your running or walking, and work with Fleet Feet + FrontRunner to give you footwear recommendations…all to keep you pain free.
If you need more advice regarding your IT Band or any other ache or pain, please contact us.
Fit For Life Physical Therapy cares for people of all activity levels - to help prevent, recover from, or rehabilitate sports & orthopedic injuries. We are proud to move people every day.
Please visit our website https://www.fitforlifephysicaltherapy.com/, email us at info@fitforlifephysicaltherapy.com, or call or text us at any of the phone numbers for our three convenient locations inside Fleet Feet/FrontRunner stores:
Polaris: 1270 East Powell Road Lewis Center, Ohio 43035 ~ 614-981-2065
Upper Arlington: 1344 West Lane Avenue, Columbus, Ohio 43221 ~ 614-981-1979
New Albany: 5792 North Hamilton Road, Columbus, Ohio 43230 ~ 614-581-7441