Hydration 101
Rebecca Youngs, MS, RD, LD
Fit For Life Physical Therapy
One of the cornerstones of a successful racing season has nothing to do with pace plans, miles run, or shoes, but has everything to do with what you put in your body. Along with consuming adequate calories and carbohydrates throughout a training cycle or race, hydration and electrolyte replacement are key to performing your best.
The summer months can be especially hard on a runner or walkers' body due to hotter temperatures and higher dew points, because with that comes more sweat! But winter is tricky too because hydrating your body is the key to hydrating the dry air you breathe while running or walking. As much as we would love to be able to pick the perfect long run or race day forecast, all we can do is control is how we prepare for and deal with the heat, cold, or unexpected humidity.
How do we assess hydration status?
Dehydration of only 1-3% can impact many aspects of an athlete's performance leading to decreased aerobic capacity, difficulty with memory, changes in attentiveness, and impaired performance. In addition to the weather, other variables can influence how much we sweat, including the intensity and duration of a workout, clothing, and baseline fitness level, and body mass.
So, how do we assess our hydration status in a practical way? Try W.U.T., or Weight, Urine, and Thirst.
Weight: If you weigh less after your run than you did when you woke up in the morning, you may be dehydrated.
Urine: Urine color is an amazingly straightforward way to determine hydration status. Ideally the lighter your urine is, the better! If your urine is dark yellow or orange, you may be dehydrated. Look for a pale yellow or "lemonade" looking color (please see the attached chart from the USADA).
Thirst: Thirst can be very objective and differs person to person, but if you are extremely thirsty, you are likely dehydrated.
Any two out of these three factors indicate that you are dehydrated.
Source: USADA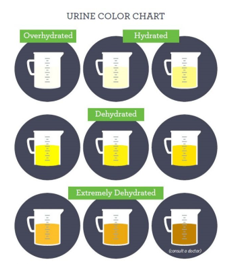 Fluid Loss and Replacement
A quick way to determine how much fluid you need to consume after running to rehydrate involves weighing yourself in the morning after you have used the bathroom to determine your baseline weight. Once you get back from your run, remove your sweaty clothes and weigh yourself again. Take the number of pounds you lost and multiply that by 16oz of fluid to find out how much to consume to reach euhydration (hydration homeostasis) or water balance.


1 lb. lost = replace with 16oz of fluid
For example,
Athlete pre-run weight: 150lb

Athlete post run weight: 147lb

150-147=3 lb.

3 x 16oz = 48oz of fluid to rehydrate and achieve water balance
Athletes should pre-hydrate for events by consuming adequate fluids throughout the days prior, and by consuming 6-10oz of fluids 1-2 hours before event start.
Hydration during Exercise
Hydrating during an endurance event is key to having a great race! In general, athletes should consume between 12-25oz of fluid per hour. If the event is longer than 1 hour, replacement should be around 1 liter (33oz) per hour.
Start by consuming 5-10 oz every 15-20 minutes. Electrolyte replacement is also key in longer events. Consuming an electrolyte supplement along with proper carbohydrates is critical in maintaining blood glucose, warding off dehydration, and preventing cramping. Common electrolyte supplements such as Gatorade, Maurten, or UCAN Hydration, to name a few. Be sure to look at the carbohydrate content of these powders if you are looking for an all-in-one fueling and hydration source.
Salty Sweat?
You may wonder if you are considered a "salty sweater?" If your sweat stings your eyes, it feels gritty or dry when you touch your skin, sweat stings open cuts, you notice white streaks on your clothes or face, or your sweat tastes very salty, you may be a salty sweater. You might need more sodium than a sports drink or electrolyte supplement can replace. Try liberally salting food at mealtimes, snacking on things like pretzels, or visiting with your sports dietitian or primary care physician about other sodium options.
For a more in-depth hydration plan, contact Fit For Life Physical Therapy and schedule a consult with the Marathoner In Training sports dietitian. We are proud to be the Official MIT and Fleet Feet + FrontRunner's Sports Medicine Partner. FFL will keep you moving – no matter what you do. Contact Fit For Life Physical Therapy at (614) 981-1979 or www.fitforlifephysicaltherapy.com.