Anterior Hip Pain
Joe Simko, PT
Fit For Life Physical Therapy
Anterior hip pain (pain on the front of the hip) is one of the most common running injuries we see at Fit For Life Physical Therapy. The good news is that for many of these injuries, it is O.K. to continue training despite the pain. There are, however, a few diagnoses that can put a stop to your running. That is why it is important to distinguish the underlying cause of the pain on the front of your hip.
If you have been increasing the intensity of your training or bumping up your mileage and are experiencing pain in the front of the hip that gets worse while running, that is when we become concerned about potential stress injuries. This type of pain needs to be evaluated by a physician or physical therapist, skilled in treating running injuries, to determine if it is safe for you to continue running or walking.
If your symptoms improve while running and then increase after you stop running or walking, or the next day, then they are more likely due to a muscle strain or overuse injury. Typically, if you are not limping while you run, then it is O.K. to continue training. Scheduling a physical therapy evaluation can help determine what the underlying cause of symptoms might be and resolve any muscle imbalances that have developed with your training.
The Iliopsoas and Rectus Femoris are hip flexor muscles which function in all components of a running stride. From helping to stabilize your hip upon impact to driving your hip and leg forward, these muscles function almost constantly with each step. If they become fatigued, these muscles can become very tight and painful. Pictured below are a couple of safe and simple stretches to help alleviate some of that muscle tightness.
Hold each stretch for about 10 seconds and perform 10 on each leg before and after a run or walk to reduce pain from hip flexor tightness.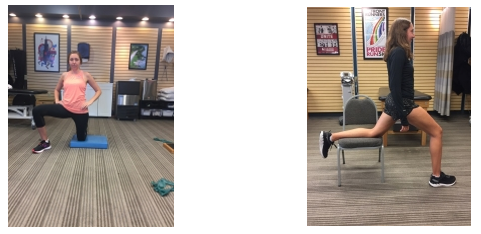 Maintaining flexibility in your hip allows you to run more efficiently, improve your cadence, and can reduce the frequency of overuse injuries. The above recommendations reflect some of the basics about this common running & walking injury. As always, seek medical advice should you be experiencing painful symptoms. Feel free to email us at: Info@FitForLifePhysicalTherapy.com with questions or comments. And keep moving!
If you have tried some of these recommendations and are still having pain, Fit For Life Physical Therapy is here to help! Our specialized physical therapists can evaluate your running form, determine if you have muscle imbalances, provide you an individualized exercise program to improve your running or walking, and work with Fleet Feet + FrontRunner to give you footwear recommendations…all to keep you pain free.
Fit For Life Physical Therapy cares for people of all activity levels - to help prevent, recover from, or rehabilitate sports & orthopedic injuries. We are proud to move people every day.
Please visit our website https://www.fitforlifephysicaltherapy.com/, email us at info@fitforlifephysicaltherapy.com, or call or text us at any of the phone numbers for our three convenient locations inside Fleet Feet/FrontRunner stores:
Polaris: 1270 East Powell Road Lewis Center, Ohio 43035 ~ 614-981-2065
Upper Arlington: 1344 West Lane Avenue, Columbus, Ohio 43221 ~ 614-981-1979
New Albany: 5792 North Hamilton Road, Columbus, Ohio 43230 ~ 614-581-7441