Forerunner 230  

GPS Running with Smart Features
Tracks distance, pace, time, heart rate, and VO2 Max
Connected features, automatic uploads to Garmin Connect, Live Tracking, audio prompts, music controls, smart notifications, and social media sharing
Activity tracking counts daily steps, distance, calories and sleep 
Download data fields, watch faces, widgets and applications from Connect IQ 
A sleek update of the popular Forerunner 220, the Forerunner 230 is now available in three colors, Purple Strike, Black and White, and Force Yellow. 
Customize your Forerunner 230 by downloading widgets and applications as well as workouts and training plans directly to your device. Easily track activities and progress via charts, graphs, and maps with the online Garmin Connect network. Next time you are ready for a run use your Forerunner 230 app's wireless connectivity links to receive current weather conditions, forecasts and smart notifications right on your device. 
Forerunner 630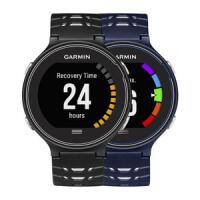 GPS Smartwatch with Advanced Running Metrics 
Touchscreen GPS running watch with a high resolution color display 
Advanced running dynamics include ground contact time balance, stride length and vertical ratio
Features stress score, performance conditions and lactate threshold
Connected features automatic uploads to Garmin Connect, live tracking, audio prompts, music controls, smart notifications and social media sharing
Download data fields, watch faces, widgets and applications from Connect IQ
A sleek update of the Forerunner 620, the Forerunner 630 is now available in two colors, black and white and midnight blue.
The Forerunner 630 is more advance that the Forerunner 230, using extended physiological metrics to help you get the most out of your workouts and feel confident with what you can accomplish when you toe the line. Once Forerunner 630 learns your lactate threshold through a guided test, you can apply it to your heart rate training when setting up zones. Overall training load, sleep, nutrition and general life stress play a role in how you will perform in a tough workout. To give you a better idea of what days you should aim for a tough workout or use as a recovery day, Forerunner 630 provides you with a stress score based off your heart rate. Performance condition is another feature that gives you an idea of how you will fare in a workout. As you run, this feature analyzes your pace, heart race variability to make a real-time assessment of your ability to perform. When planning a strategy for your next race, Forerunner 630 measures your VO2 max and can predict your race times for several distances, providing you with a time target. It also lets you know when to back off your training after a grueling workout or race with its built-in recovery advisor.