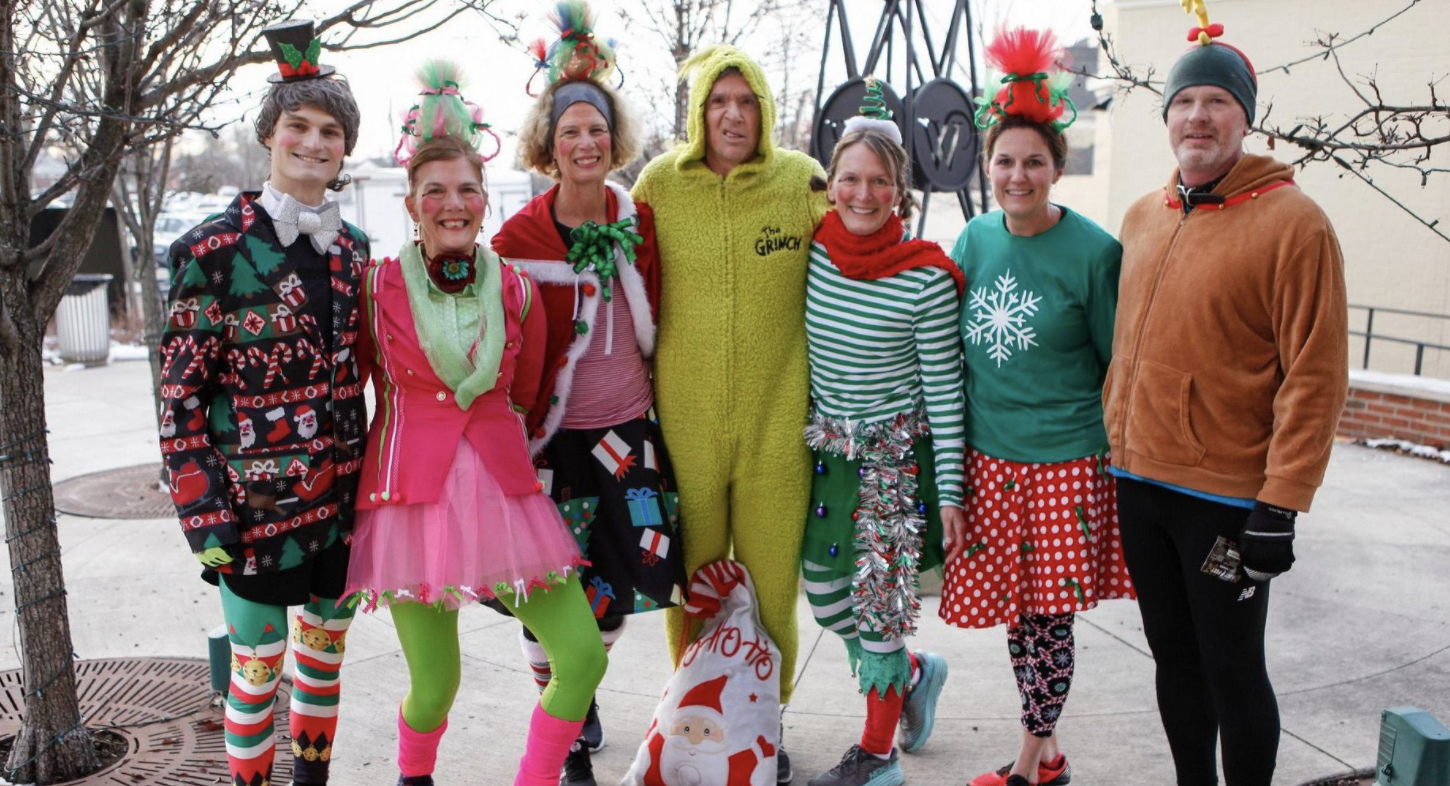 Have an ugly holiday sweater laying around?! Join us December 21st through 27th for our virtual spin on our annual holiday tradition, the 10th Annual Fleet Feet Ugly Sweater Scavenger Hunt & Mileage Challenge!
Looking for an excuse to have a break from the family this holiday season? Or maybe, you want to bring the whole family with you?
Whatever the case may be, the 10th Annual Fleet Feet Ugly Sweater Scavenger Hunt & Mileage Challenge is all set! And it's gonna be a doozy! We are putting a new twist on the event this year! Think Big's Backyard Ultra with Ugly Sweaters, Uglier Photos, and Fun Prizes!
Sweater or other costumes encourage but not required. Camera's a must as they will be needed for the scavenger hunt!
For the Amazing Ugly Sweater Scavenger Hunt you are free to work by yourself or as a team. Teams may work together to complete the scavenger hunt and mileage challenge. Start thinking up team names! Fleet Feet Santa might even bring a few prizes to those on his Nice list! Let's hope you're not on his Naughty list!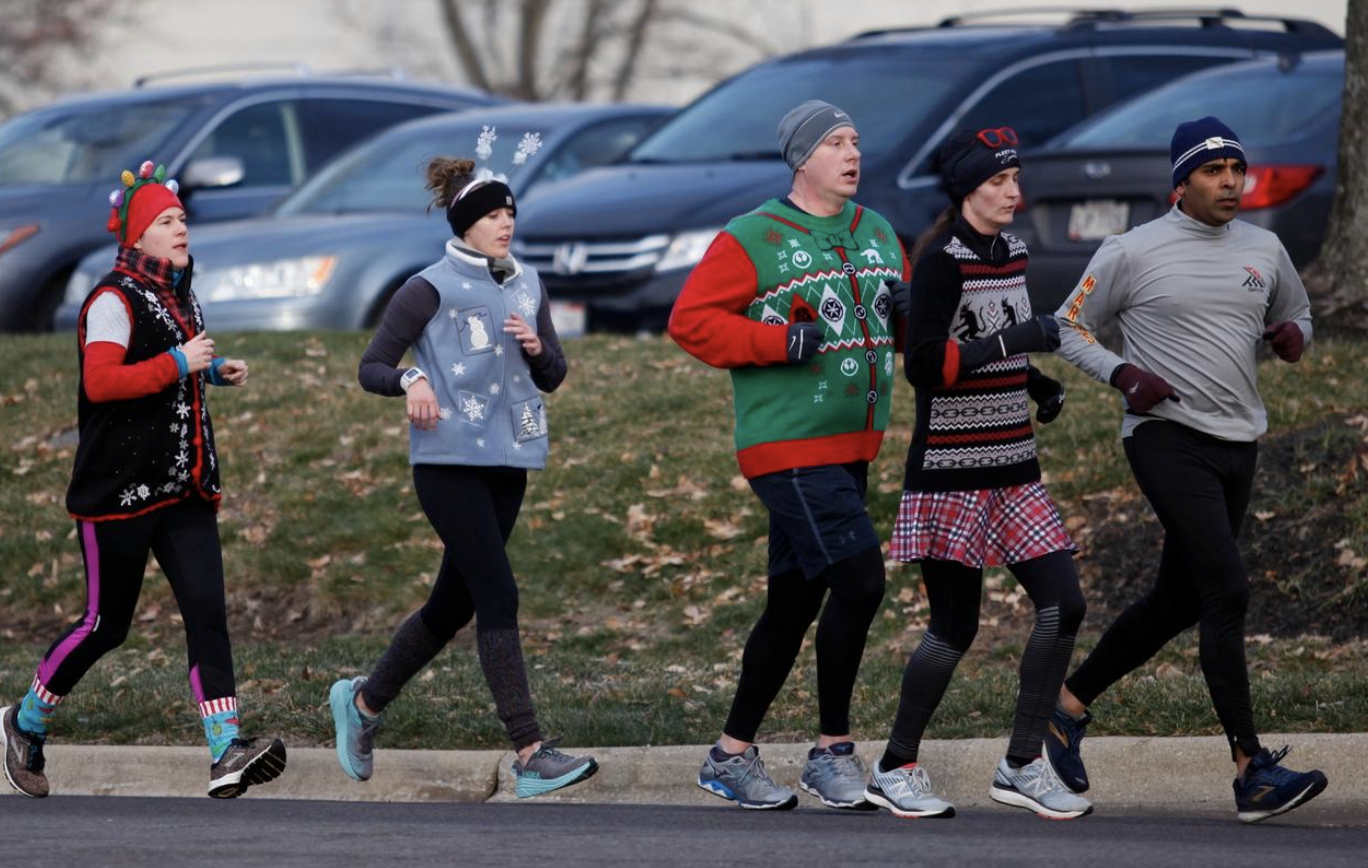 How will the 10th Annual Fleet Feet Ugly Sweater Scavenger Hunt & Mileage Challenge work?!
During the week of December 21-27 log as many miles as you can as an individual or as a team. Miles are logged through the registration site during the event.
Along the way seek out our Ugly Scavenger Scavenger Hunt objectives. (List provided to participants on December 20th.)
Tag photos of your adventures on social media with @fleetfeetcbus #UglySweaterScavengerHunt
Prizes individuals and teams logging the most mileage, completes the most scavenger hunt objectives, best/worst ugly sweaters, and more!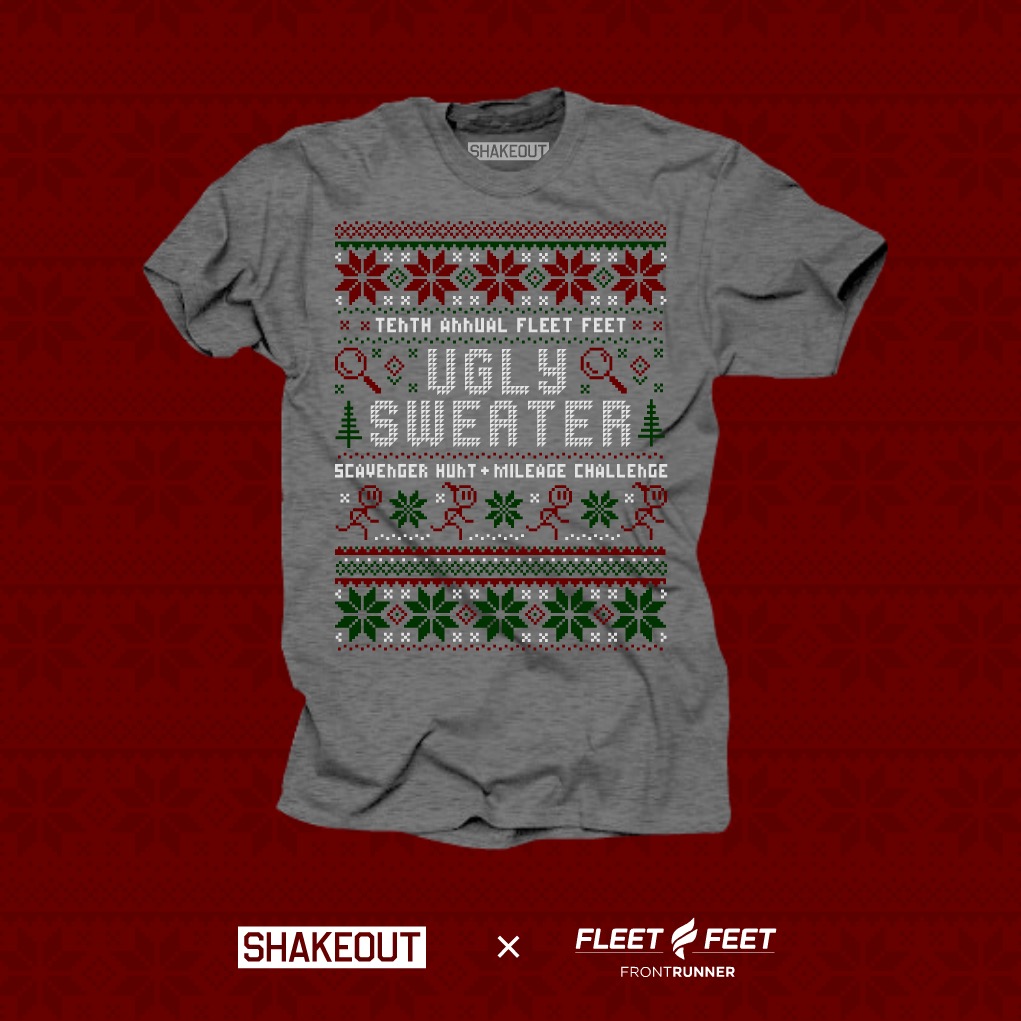 What do you get?!
Exclusive Fleet Feet + FrontRunner x Shakeout Apparel Ugly Sweater Tee (Shirt design above!)
6Run4 Holiday Ornament
Ugly Sweater Scavenger Hunt objectives.
$10 Voucher to Fleet Feet + FrontRunner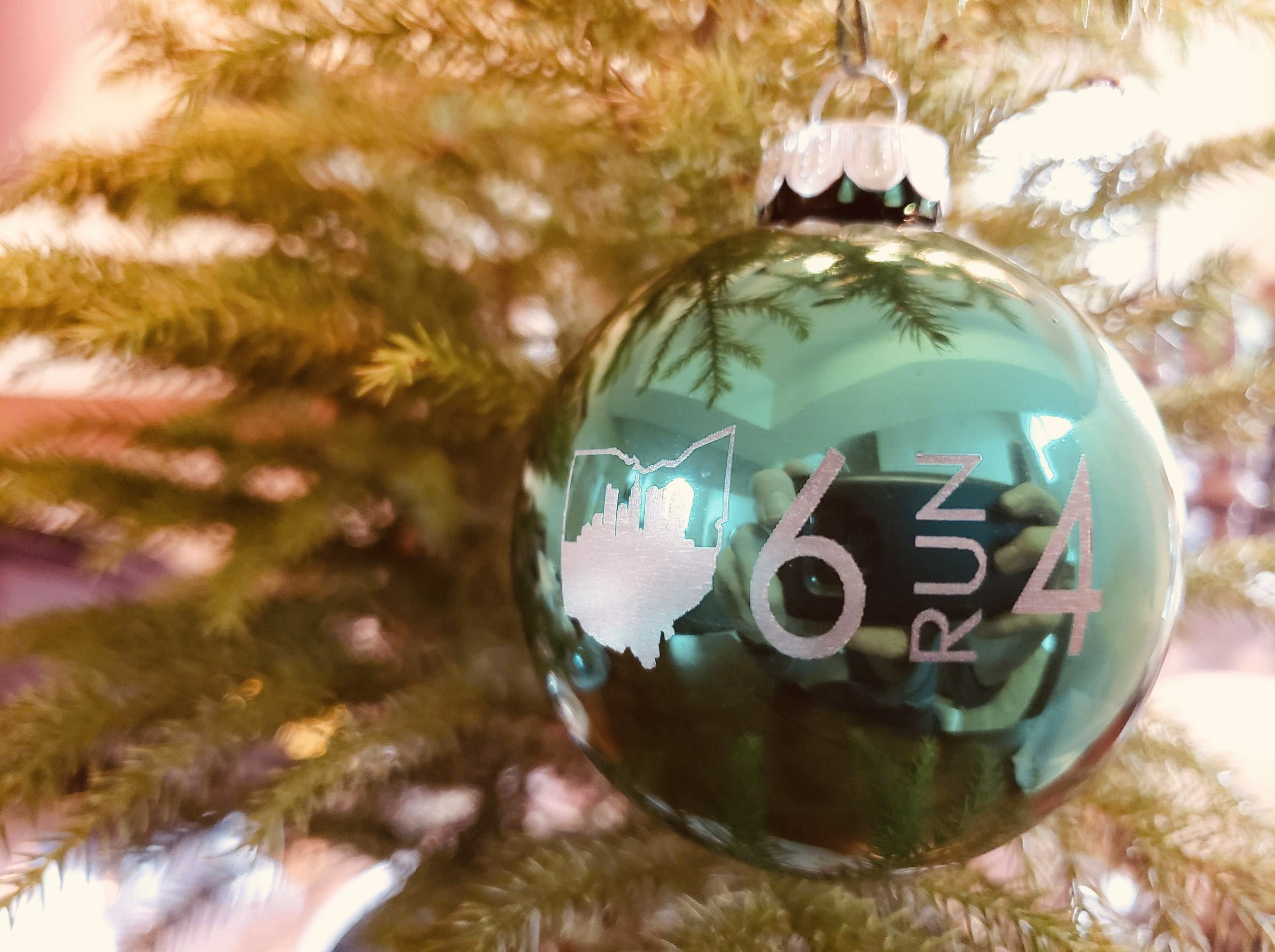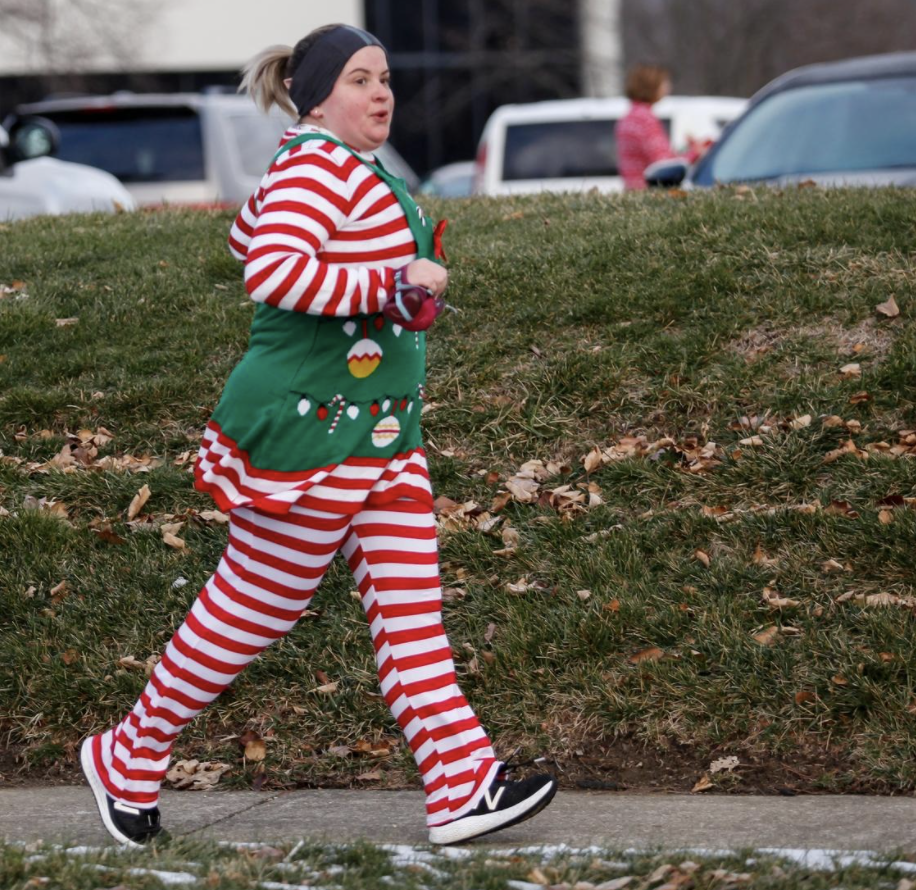 How much does it cost?
Registration is $30
Registration ends on December 15th.
Packet Pick Up & Optional Shipping
Packet pick up is December 19-20 at Fleet Feet Lewis Center
For $15 you can opt to have your packet mailed to you. Registration deadline of December 5th to ensure you receive your swag by December 21st. You can register AFTER December 5th but delivery by December 21st is not guaranteed.

---
2020 Ugly Sweater Mileage Challenge & Scavenger Hunt Instructions
The 10th Annual Ugly Sweater Mileage Challenge & Scavenger Hunt
Thank you for joining for our 2021 edition of our Ugly Sweater event! I will be sad to not see you all in person as we don our gay apparel as we head out in search of some holiday spirit!
However, this year's event will be no less special! We have added a 7-day mileage challenge to keep you moving all through the holiday!
Santa's elves have officially delivered your packet to Fleet Feet Lewis Center located at 1270 E Powell Rd, 43035. You may run by anytime to pick up your packet! While the mileage challenge begins on December 21st you DO NOT need to have picked up your packet prior to that date in order to begin logging miles! Read on for how the mileage works!
Once again, we have curated a joyous list of Holiday what-nots for you are your ugly sweater companions to track down! The official 10th Annual Ugly Sweater Scavenger Hunt list is attached. Instructions for how to complete the scavenger hunt are listed below!
Now for the beauty of it! This is all about having fun and celebrating the holiday spirit! You can complete the scavenger hunt, or the mileage challenge, or both! Heck, you can opt to none of the above and simply enjoy your new ugly tee and you kick back and slurp down too much eggnog while staring at your new 6run4 or Running Changes Everything holiday ornament!
So, run by (unless of course you paid for shipping because your packets were mailed this morning!), pick up your tee and ornament and log some miles while tracking down our scavenger hunt items!
How do I complete the Scavenger Hunt?!
How do I complete the Mileage Challenge?!
Alrighty then! Hook up the sleigh and get crackin'!
Happy Holidays!
Jeff and the Fleet Feet + FrontRunner Team