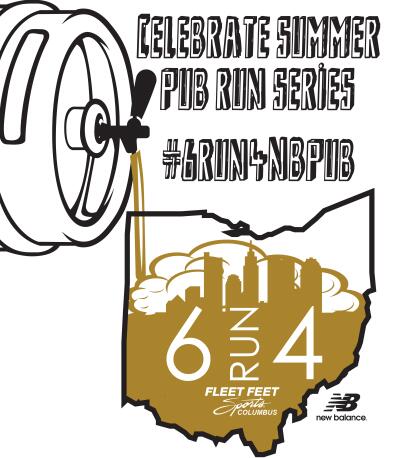 Come one come all to the end of summer 6Run4 Pub Run Series! Don't let the end of summer get you down; come celebrate these 4 great events with us! Your attendance will be richly rewarded with a sweet tee for everyone that comes to at least 3 of 4 runs. Can't commit to 3? No worries, even if you come just once you'll still get some fun swag...see the deets below!
The 6Run4 Pub Run Series kicks off August 25th and will be hosted by our friendly New Balance reps Paul and Paul! The first 3 will be taking place here at the store with the finale at Studio 35. That same night we will be awarding fun prizes and awards with a movie to boot.
#6run4NBPub - Post your photos during each event on your social media of choice with this hashtag and tag Fleet Feet Columbus. Be creative..each post will be your entry into a drawing for some NB gear and the best of the posts will also be recognized and rewarded at Studio 35! Prizes include New Balance shoes for one lucky guy and gal, a race day kit for another lucky guy and gal...among other goodies!
August 25th, 6:30 at Fleet Feet: pint glass - RSVP here: https://www.facebook.com/events/747556625301519/
September 8th, 6:30 at Fleet Feet - Koozie - RSVP here: https://www.facebook.com/events/661793900578965/
September 15th, 6:30 at Fleet Feet - bottle opener - RSVP here: https://www.facebook.com/events/1428353770739225/
September 29th, 6:30 at Studio 35 - prizes, awards and movie - RSVP here: https://www.facebook.com/events/657852340969084/