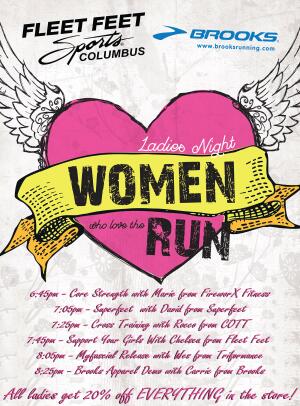 DIVA NIGHT IS HERE!  
Ladies, your night is finally here!! This Thursday from 6:30pm to 8pm we are taking time to cater to your every need.  Training season can be rough, so take a moment to take care of you!  A night of fun, mingling with friends, delicious beverages and food, raffles and prizes, along with experts in fitness to help you achieve all of your training goals this season. 
We have a fantastic line-up planned, where you will have the opportunity to interact with the following guests as they provide you with a foundation for success in maintaining and achieving a fit and healthy lifestyle:
Core Strength – Marie from FireworX Fitness will be here to explain the benefit of core training for endurance athletes.  She will give you advice to help you on and off the course and help you get one step closer to the beach body you have always dreamed about!
Superfeet – Dave from Superfeet is here to help you avoid injury through stabilizing your foot.  Supported feet help to reduce stress on the rest of your body, allowing for a more efficient, injury free athlete. 
Cross Training – Rocco from Central Ohio Triathlon Team will help clear up any questions you have about cross training.  We all know it is important but when is it most appropriate, what is the best method for your particular training, any questions you have about how to work cross training into your training schedule will be crystal clear!
Bra Fit -  Chelsea from Fleet Feet can not only fit you for your appropriate bra size (8 out of 10 women are in the wrong size!) but will also provide you with information on bra technology, what bra is appropriate for your particular mode of exercise, along with making sure you understand what a proper fit looks and feels like!  Support your girls!
Myofascial Release -  Wes from TriFormance is going to be prepared to help you loosen up this training season!  He will teach you about the benefit of massage, stretching, and muscular health.
Brooks Apparel Demo-  Carrie from Brooks will be here to walk you through the new line.  Brooks offers fun, fashionable, and functional running and walking gear and Carrie will be here to tech you out on all of the coolest Brooks technology!
Join us from 6pm-8pm at 1270 East Powell Road, Lewis Center, OH 43035.  If you have questions feel free to call (614)-846-5625 and talk to a representative at the store.
We look forward to a night of fun.  You will walk away with a broader education on training and technology!  
Please RSVP on Facebook if you plan to attend!