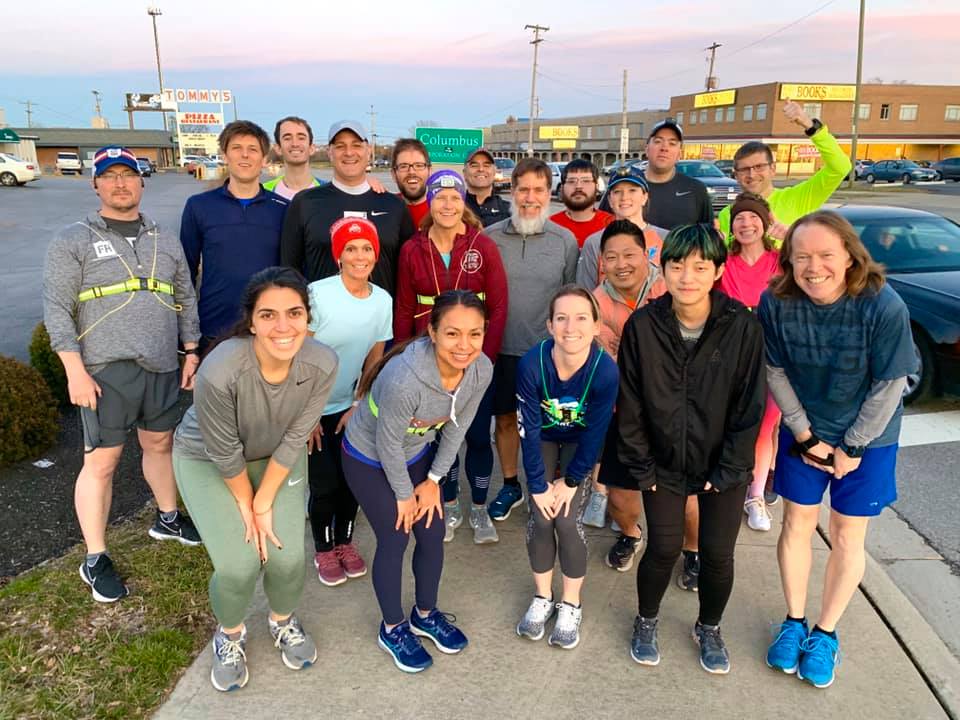 After nearly a year without group runs Fleet Feet invites you to take back the run with us beginning March 1st! That's right! Fun runs are back as of Monday, March 1st!
Masks must be worn before and after the runs and are encouraged during. Please follow social-distance guidelines. Hands must be sanitized before entering buildings following runs.
MONDAY: Pub Run at Fleet Feet Lewis Center – Small group start times at 6:15 pm and 6:30 pm. Join us for fun, friendly loops of 3 to 5 miles. Enjoy an adult beverage and raffles when you finish up. Get one raffle ticket just for showing up. Earn one additional raffle ticket for every $5 spent! Prizes include Fleet Feet gift cards, Olentangy River Brewing Company gift cards, and weekly mystery swag!
TUESDAY: NEW!! Tempo Tuesday at Fleet Feet New Albany – Get a sneak peek of our new store and join Dave Calvert for a little up-tempo run. Every Tuesday evening at 6:30pm. Dave will provide multiple route options, and weekly workout surprises! Fun and challenging workouts for all abilities!
THURSDAY: Fun Run at FrontRunner Upper Arlington – Join the crew for casual runs of 4-6 miles through the streets of Upper Arlington.
Plus, don't miss out on these opportunities with our friends from Rocks and Roots Trail Runners Association, and Olentangy River Brewing Company!
ORBC Run Club: Run a couple miles. Drink a couple beers. Every Tuesday at Olentangy River Brewing Co. at 7:00pm.
Thursday Night Trail Run: Strap on your headlamp and hit the trails at the Rocks and Roots Trail at Alum Creek! Get dirty with us every Thursday at 7:00pm.
RULES
Participants must sign a waiver (linked in this post) and have temperatures taken before the start of each event.
Do not attend if you do not feel well or have been around someone who does not feel well or has tested positive for COVID-19.
Participants will be asked to gather outside prior to the start of each run. At Lane Avenue, please gather along the alley way between FrontRunner and Tommy's. Please use the Fit For Life door (Lane Ave. only) when entering and exiting the store.
Participants are welcome to come inside of the store to shop or use the restroom but must remain 6 feet from others in the store. If you choose to mingle after the run, we ask that you do it primarily outside. Masks must be worn at all times in the store.
Participants must wear masks before the run but may take them off once the run is started. When finished with the run, participants must put their masks back on. We recommend having a gaiter around your neck to use while passing others out on the run.
When out on the run, participants must remain 6 feet apart throughout the duration of the run.
There will be hand sanitizer available for participants to use.
There will be no key bucket for the foreseeable future. Plan to carry your phone, keys, etc. with you on the run.
Fun run participants must complete a waiver every week before each group run. If you attend multiple group runs each week you have to sign a new waiver each day. The waiver is linked in the event pages for the group runs, or can be accessed here.
Can't wait to see you all soon! Stay safe!