100% of proceeds going to Hand in Hand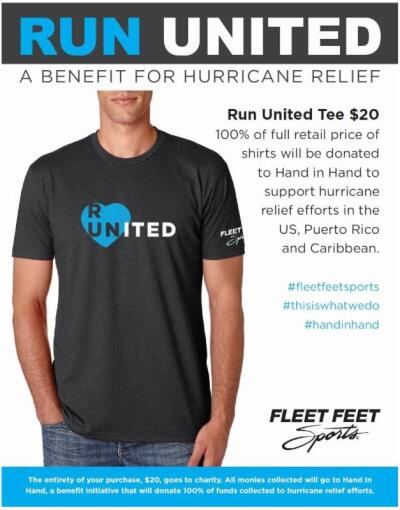 Fleet Feet Sports Nationwide, in an effort to help those affected by recent Hurricanes, will be offering the RUN UNITED Cotton for $20. Whereby 100% of full retail price of shirts will be donated to Hand in Hand, a benefit initiative that will donate 100% of funds collected to hurricane relief efforts in the US, Puerto Rico and Caribbean.
We are pre-selling the shirts to guarantee sizing.
To pre-order the special RUN UNITED Cotton Tee simply stop into any Fleet Feet + FrontRunner Columbus-area location by Monday, September 18th or pre-order online now by clicking here!
You can also order by phone 614.846.5625
We will be ordering the RUN UNITED Tee for you and will be notified via email as soon as they are ready for pickup.
We will be pre-selling the RUN UNITED Tees until September 18th
Shirts will be available by September 27th. All who pre-order will be notified via e-mail as soon as shirts arrive.