Recipes with Rebecca | Pumpkin Baked Oatmeal | Contributed by Rebecca Youngs, RD, LD, Fit For Life Physical Therapy
This is the perfect pumpkin flavored recipe to celebrate fall! I love to make a batch of this on a Sunday and have it for breakfasts or a snack throughout the week!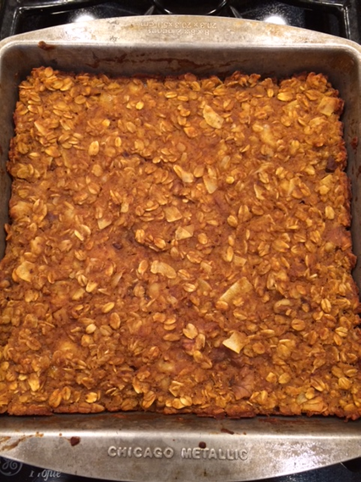 Key nutrients and tricks:
Adding pumpkin brings a nice warm flavor with a ton of added health benefits! Pumpkin is full of Vitamin A, Vitamin C, potassium, and fiber. Potassium is crucial for runners and walkers since it works with sodium to regulate fluids and electrolytes. Potassium is also needed to prevent muscle cramping and keep your heart rate regulated while running or exercising!
The oats are a great source of unprocessed whole grains that will keep you full for hours. Since it is unprocessed, the energy is released slowly preventing a sugar spike!
I like to add walnuts since they are very high in omega-3 fatty acids. If you do not like walnuts, try pecans or chopped almonds.
The unsweetened coconut flakes add a healthy source of fat and natural sweetness. If you are not a coconut fan, leave it out and add some dried fruit like cranberries or some chopped apple.
Ingredients
2 ¼ cups of old-fashioned rolled oats
1 Tbsp. of ground flax seed
1 ½ Tbsp. of wheat germ
1 tsp. baking powder
2 tsp. cinnamon
1/3 tsp. pumpkin pie spice
½ tsp. salt
½ banana, mashed (about 1/3 cup)
1 cup of pumpkin puree
¾ cup of milk (or nut milk)
1 large egg
¼ cup of honey
1 tsp. vanilla extract
1 cup of chopped walnuts (or other nut)
½ cup of unsweetened coconut flakes, optional
Directions
Preheat the oven to 350°F. Spray an 8-inch square baking pan or ceramic dish with non-stick cooking spray.
In a large bowl, combine oats, flax seed, wheat germ, baking powder, cinnamon, pumpkin pie spice, and salt. Mix until well combined.
In a separate bowl, add mashed banana, pumpkin puree, milk, egg, honey, and vanilla. Mix together.
Pour the wet mixture into the dry ingredients and mix well. Fold in the chopped walnuts and coconut flakes. Spread into the baking ban and smooth the top.
Bake for 30-40 minutes until the oats have set and it is slightly brown. Remove from the oven and cool for 15 minutes before serving.
Serve warm with vanilla yogurt and chopped fruit. Store in an air-tight container in the refrigerator.