Dark Chocolate Zucchini Muffins
Low in sugar and the perfect way to start the day, these Dark Chocolate Zucchini Muffins are an easy way to get in some healthy whole grains, fats, and of course, chocolate! Make a double batch and freeze them for a snack, or breakfast on the go!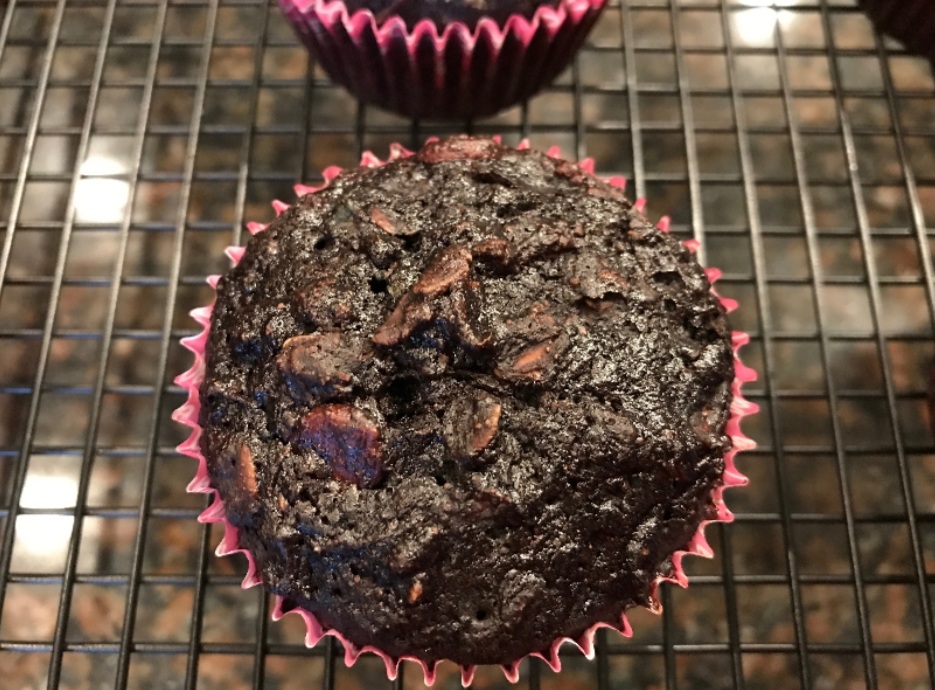 Key nutrients and tricks:
I like that these muffins aren't overly sweet, but if you want them sweeter, simply add in 1-2 Tbsp. more of maple syrup or an additional 1 Tbsp. of coconut sugar.

If you can't find dark cocoa powder, regular cocoa powder will work fine.

If you don't have a zucchini, try using a yellow squash.

I love to use spelt or buckwheat flour in this recipe. Spelt flour is high in fiber and B vitamins. Buckwheat flour is a gluten free option that is also high in fiber and protein. If you can't find any of these flours, whole wheat works just as well!

Sometimes I love adding unsweetened coconut for added chew and texture.

Ingredients
¾ cup of oats
1 cup of spelt, buckwheat, or whole wheat flour
1 Tbsp. almond meal, or almond flour
½ tsp. cinnamon
1/3 cup of unsweetened dark cocoa powder
2 Tbsp. flax seeds
1 tsp. baking soda
½ tsp. salt
2 Tbsp. coconut oil, melted and cooled
1/2 cup of maple syrup
2 Tbsp. coconut sugar, brown sugar, or honey
1 tsp. vanilla extract
1 egg
¼ cup of milk or almond milk + 1 Tbsp.
¼ cup of mashed banana
¼ cup of unsweetened applesauce
1 large zucchini shredded or grated, (about 1 ¼ cups)
½ cup of chocolate chips, almonds, or dried cranberries
¼ cup of unsweetened coconut flakes, optional
Directions
Preheat the oven to 350 degrees.
In a large bowl, combine oats, flour, almond meal, cinnamon, dark cocoa powder, flax seeds, baking soda, and salt. Mix together to combine.
In a separate bowl, add in the cooled, melted coconut oil, maple syrup, coconut sugar, vanilla extract, egg, and almond milk. Mix well, and then add in the mashed banana, applesauce, and zucchini. Fold in the zucchini until moistened.
Add the dry ingredients to the wet zucchini mixture. Mix until well combined and then add in the chocolate chips.
Portion the mixture into lined muffin tins. This recipe makes 12-14 large muffins.
Bake in the oven for 17-20 minutes. If they seem wet, add an additional 5 minutes.
Cool on a rack before storing in a bag or air- tight container. If freezing, double bag the muffins.