MommyMile is a truly unique 5k run/walk experience that is aimed to be a celebration of Moms! On April 26, 2015 as Polaris Fashion Place, MommyMile not only offers the 5k run/walk but also a special 1 mile opportunity we call "The Mommy Mile". This is a celebration everyone is invited to participate in: Moms, significant others, sons, daughter, friends and supporters. Thousands gathered together to celebrate Moms!  
So what really makes this event so special? The MommyMile has three main components: Recognize. Celebrate. Thank. Choose from the certified 5k or our 1 mile "The MommyMile", then enjoy an all out celebration with champagne toasts, roses, food, drink, live music and an exciting gifting spree. To top things off as a way to give a special "Thanks" to our Moms, our retail partners have secured a private 60 minute shop experience with exclusive deals and savings. Get something special for Mom!
MommyMile is extremely proud to be partnering with Ronald McDonald House Charities of Central Ohio as part of the "Moms Helping Moms" campaign.
Register today at MommyMile.com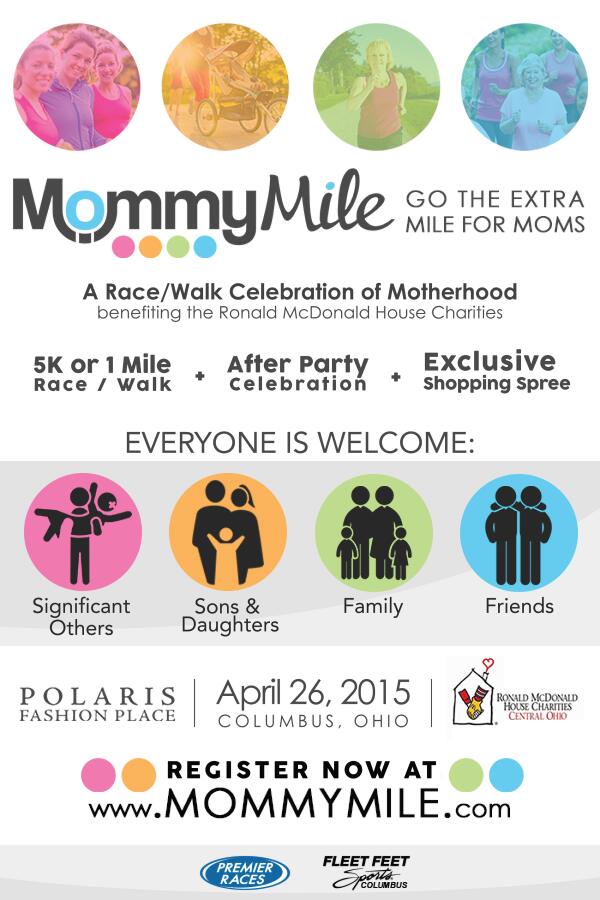 Register now to catch limited discounted pricing at: mommymile.com