This is the perfect recipe for a chilly night! Vegan and nut free, this lentil soup is full of vegetables and is perfect to boost immunity.
Key Nutrients and tricks:
This soup is full of fiber from the vegetables and lentils, but if you don't like lentils, try adding in white beans for that same creamy texture and protein.
Adding the baking soda, an alkaline ingredient, helps to minimize the acidity from the tomatoes!
I like to add in fresh ginger for the added health benefits! Ginger is a powerhouse when it comes to digestion and relieving nausea. Components in ginger called gingerols have been linked to reducing inflammation and improving pain. In addition, ginger is high in manganese and Vitamin E!
I have made this recipe with spinach or baby kale mixed in at the end- an extra dose of iron! Try adding in cooked orzo or quinoa for a complex carbohydrate source.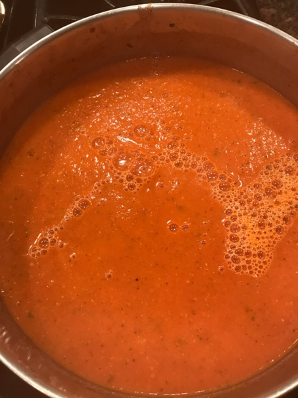 Ingredients
½ cup dry red lentils
Olive oil
1 medium sweet onion
2 cloves of garlic
2-3 ribs of celery
¼ chopped carrot
1-2 tsp. chopped fresh ginger
2 Tbsp. tomato paste
¼ cup fresh basil, chopped
1-28oz can of crushed tomatoes
4 cups chicken or vegetable broth
½ tsp. baking soda
1 tsp. Italian seasoning
1 bay leaf
Salt
pepper
Directions
In a small pot, cook lentils in water according to package directions. Cover and let sit once finished cooking or store in the fridge until you are ready to make the soup.
In a large soup pot, add 2-3 Tbsp. of olive oil and heat. Add in onion, garlic, celery, carrot, and ginger. Season with salt and pepper. Sauté for 5 minutes. Add in tomato paste and chopped basil. Mix until combined.
Add in the crushed tomatoes, vegetable broth, and baking soda.
Add in the bay leaf, Italian seasoning, and additional salt and pepper to taste.
Simmer for 20 minutes until vegetables have started to soften. Stir and add in the lentils. Simmer for an additional 5 minutes.
Take an immersion blender and blend the soup until it is creamy. A food processor or regular blender will work well too, but add the soup in small batches since it is hot.
Serve warm with fresh basil and a sprinkle of turmeric.