"Running has given me so many things, But the greatest gift has been the people that it has brought into my life."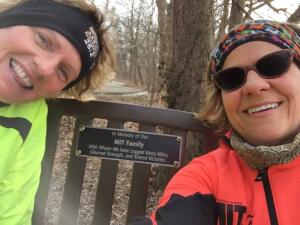 After suffering the tragic loss of a few members of our MIT Family we looked for a way to keep their memories alive along the Olentangy Trail. Through fund raising and donations we were able to raise the funding necessary to have Worthington Parks and Recreation place a Bench and  Memorial Brick Garden  commemorating each of the names of our fallen comrades. A few members of our MIT family have already had their names enshrined within the Brick Garden. It is our desire to commemorate all members of our MIT family who leave us far too soon. 

We hope the bench will provide an opportunity for those of us left behind to sit, reflect, and for a moment feel once again connected to our missing family and friends that once shared the trail with us. Additionally, the bench provides  MIT members with the opportunity to once again be good stewards of the Olentangy Trail and give back to the community that has provided us with so much joy over the years. 

 A plaque has been affixed to the bench stating "In memory of our MIT family with whom we have logged many miles, gleaned strength, and shared victories" . We miss you all! 

ENSHRINEMENT LIST: 

STEPHANIE AUER - (2010):
Stephanie was an outgoing individual that never met a stranger. She was talkative and could make anyone a close friend. She was deeply involved in her faith and her church as a teacher for young girls and as a volunteer at a local clinic. She spent time overseas in Cambodia sharing the Gospel and helping others in need.  Stephanie always put her family and friends first, if it was watching her nieces and nephews or sharing with friends about life lessons; she was always there. Stephanie touched 1000's of people over her life, and she will be missed by all who knew her. 

Stephanie, you will be sorely missed by your many MIT family members ! I don't know how many Saturday mornings to come we will head down the TWHS hill for our long run that we won't think of you, hear your voice or see you running side by side with one of your many running buddies! What a wonderful addition you will be to heaven's angels! 
DARLENE PHYTHYON - (2011):
Darlene was not an athlete throughout her life, but one of her goals in life was to be a runner. She joined No Boundaries where she gained the fitness and confidence to complete several 5K's and after awhile, Darlene began to talk about running a Quarter Marathon. While she loved to run and frequently talked about the health benefits of running, what she enjoyed most was the camaraderie she shared with her fellow runners. Everyone had a common goal and that was not to win or to run fast – but to start and then finish the race. She was thrilled to be a part of the Fleet Feet running team and was immediately welcomed into the community as the runner she already was, but didn't know. Her running friends and family were an important part of her life and she was looking forward to completing a Quarter Marathon with them, the race she was training for the day she passed away. Through running, Darlene was renewed in her self-confidence and physical health and often transferred the positives of running into other aspects of her life. Thank you to No Boundaries, MIT and the entire Fleet Feet community of runners for supporting Darlene on her journey and for helping her achieve her dream to be a runner.
JEFF SKILLING - (2012):
When Jeff Skilling first heard about MIT, he was intrigued, and most definitely a bit jealous. His wife, a runner before they had children, planned to join the running group the following spring session. When Jody returned home after a couple of early Saturday morning runs-- glowing, relaxed, exhilarated from the workouts, and chatting about the other runners she was meeting on the trails-- Jeff wanted a piece of the action, too.
The thought of training for a half or full marathon was exciting, thrilling, and slightly intimidating-- but Jody was doing it, and returning to the trails every Saturday for more. Jeff wanted that satisfaction, too, but he had questions – many questions -- and a few complications. Who's going to take care of the kids if they both run at the Saturday workouts? How was he going to maintain his running miles when he had to travel internationally for work? How does the running program work, exactly, to ensure his success on race day?  
It's unclear how Jeff and Jody split the childcare between them, but the 9 minute pace group saw Jeff pretty regularly by first light most Saturdays.  Jeff had many of his questions answered on the trail among his fellow MITers. They shared stories of success and failure, debated techniques, shoes and nutrition, supported one another when fatigue or jet lag wanted to take over and there were 10 more miles of running to be done before reaching the parking lot. And he relished every mile of it.
Several years and many miles and races later, Jeff's MIT family circle grew bigger and greater. It would be these friendships and memories that humbled him, cheered him on to get through the final moments of the cancer, which much too soon, took his life.  The memories he shared on the trails and friendships he embraced will forever be in the hearts of his MIT family.
JEFF GLAZE (Founder of Marathoners In Training) - (2014):
Jeff changed lives by connecting people with a common interest. He preached the benefits of training with a group who share a common goal. Setting a goal to run or walk a 5K, a half marathon, or marathon can be daunting, but being part of a group and sharing the goal makes it more achievable. The MIT theme: "why train by yourself," seems so simple. In practice, it is indelible.
Jeff had vision. He understood that the power of the group isn't merely in pursuing or achieving a goal; it is much more. For Jeff, the Marathoner In Training group fosters connections between like-minded people who become friends; for many, the closest of friends. 
MIT alumni echo a common theme; the friendships forged on the trail are among the most meaningful. The friendships Jeff made through MIT enriched his life, but for Jeff the friendships that result from MIT are what made him smile, and that will be his legacy. Jeff was generous and selfless, so I pose a question he would never ask: 
"Who would you know, who would you love, if you had never met Jeff Glaze?" When you answer the question I think that makes Jeff smile. 

KATHY KOWALSKI - (2015): 

Kathy Kowalski became a member of MIT in 2011 with her husband, Chris. She loved running the trails, logging her training miles, as well as racing, and we all loved being around her. We could always count on Kathy to say, "That was a FABULOUS run. It was FASCINATING! Woop Woop!" Or, she would groan in pain with us when Marie had us doing one more killer plank in core class! When she wasn't racing, we would often see Kathy and Chris out on a race course with a cow bell and a sign cheering on fellow MITers or at a post run celebratory gathering to eat. 
Kathy always wanted to run a full marathon, but a crazy walnut, dead butt syndrome and Multiple Myeloma got in the way. Her journey with Multiple Myeloma was more rigorous than completing an ultra marathon. She was so brave and fought like a girl every day, rarely complaining about the pain. 

Knowing Kathy as we all do, she's up in heaven right now, logging her training miles in the sunshine; doing a few squats for her trainer, Steve, and planks for Marie; ready to set amazing PR's and focusing on earning a collection of colorful medals…of course, all while wearing a bright purple Fleet Feet MIT running outfit with her fast running shoes. Together, we can wish that she will bless us with a few "Woop Woop" cheers during our future training runs and races.