Black Diamond ReVolt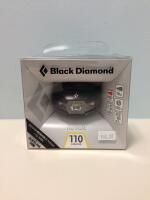 The 110-lumen ReVolt runs off three Black Diamond NiMH AAA rechargeable batteries and recharges via a USB cable that can be plugged into anything from a computer to a solar charger. When recharging is not an option, the ReVolt accepts standard alkaline AAA batteries. Distance mode is powered by one TriplePower LED, two SinglePower LEDs power proximity mode and two SinglePower red LEDs power night vision mode. With a full feature set, including dimming, and a weather-resistant housing, the ReVolt is ready for nearly any mission.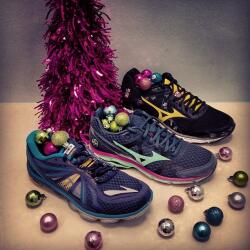 Mizuno Wave Rider 17 and Mizuno Wave Inspire 10
 The Moment Your Shoes Disappear…
Lightweight, resiliently cushioned midsole
Dissolving upper fit with new DMF execution and soft, supple mesh materials
New sockliner with increased resiliency and responsiveness
 Run Smoother
SmoothRide Engineered for a Brilliant run
Lateral Forefoot Sculpting for smooth touchdown and transition
Blown rubber forefoot with deep flex grooves for optimal flexibility and cushioning
8.8 oz for the Rider and 9.0oz for the Inspire
 Brooks Pure Cadence 3
Getting support doesn't mean gaining weight when it comes to this ultra-light yet stable turn-hugger. Feel supported without feeling the shoe.
Rounded IDEAL Heel brings contact points even closer to your joint center
Sculpted medial arch integrates with the upper to create a closer fit
Toe Flex repositioned to allow the first two toes to work as a functional unit
Changed the upper wrap to pull from the medial side for an even more comforming fit
8.6 oz and 4mm offset
Garmin Forerunner 220
Battery Life up to 6 weeks in watch mode and up to 10 hours in GPS mode
High resolution color display
Vibrate alert
Auto scroll
A total of 3 screens: 2 screens of up to 3 customizable fields and a 3rd heart rate screen
Bluetooth Smart (BLE) for live tracking and data uploads with compatible phones
Downloadable satellite data for faster satellite acquisition
Heart Rate alerts
Pace Alert (instead of being called Virtual Pacer)
Extended Time-Out (25 Minutes instead of normal 5 minutes)
Built in accelerometer for cadence as well as indoor pace and distance
Downloadable training calendar
Advanced workouts
Garmin Forerunner 620
High resolution color touch screen (Works with sweaty, wet fingers and with gloves)
Up to 4 customizable screens of up to 4 fields per screen
VO2 Max estimate with Race Predictor
Recovery Advisor (with Recovery Time after each run and Recovery Check during each run)
Training Effect (Based off a heart race information during exercise, a value is given between 2 and 5 measuring the users intensity. A score of 5 means the user is over reaching)
Runner Dynamics with new HRM-RUN strap:

Cadence, Ground Contact, Vertical Oscillation
Wi-Fi
Virtual Partner
Brooks Equilibrium Base Layer
When teamed with a top layer, this baselayer works like insulation—blocking outside temps and improving your natural temperature
regulation by keeping you incredibly dry. Worn alone, this warp knit top allows for great airflow and draws moisture away from the skin.
Your Body+Smart Skin+Layer=Happy Runner!
Yaktrax Pro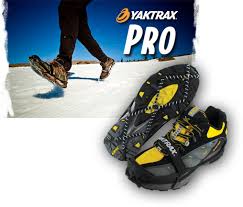 The Yaktrax Pro will instantly give you better traction, confidence and safety on packed snow or ice. Walk, run, or work on slick surfaces with the same stability you're accustomed to on dry surfaces. Don't let the winter weather put a damper on your outdoor activities or athletic training with the Yaktrax Pro!
Spikeless, ultra lightweight design
360° of traction with patented skid lock coil system
Durable natural rubber blend for flexible fit
Abrasion resistant 1.4mm steel coils
Removable performance strap ensures fit
Heel tab allows for easy installation and removal
Inov-8 Shoes
This functional fitness shoe features a performance fit and is ultra lightweight, making it ideal for athletes with a developed natural running style. Reinforced medial and lateral sections increases protections for climbing ropes. A large contact area sole design enable good grip and stability when running or exercising.