You maximize every minute of your day. That's what Fitnatics do. Treat yourself to performance gear worthy of your time.
Join us at our Fitnatic Annual Event November 19th through 27th at all Columbus area Fleet Feet + FrontRunner locations!
Receive a FREE $20 Gift Card with any $100 Gift Card Purchase, PLUS receive and exclusive mini shoe box from Brooks for the gift cards!!
Balega Socks - Buy 3 Get 1 Free!
$10 off select shoes, PLUS FREE mystery gift card with shoe purchase! Gift card values range from $5 to $100!
20% off apparel!
10% off electronics, PLUS GARMIN 235 for $250, regularly $330!
50% off clearance shoes and apparel!
CHECK OUT OUR FUN AND FREE FAMILY EVENTS FOR THE HOLIDAYS
Plus, buy a limited edition Dare To Be Tote Bag for $10 and get 25% off all the apparel you can fit inside!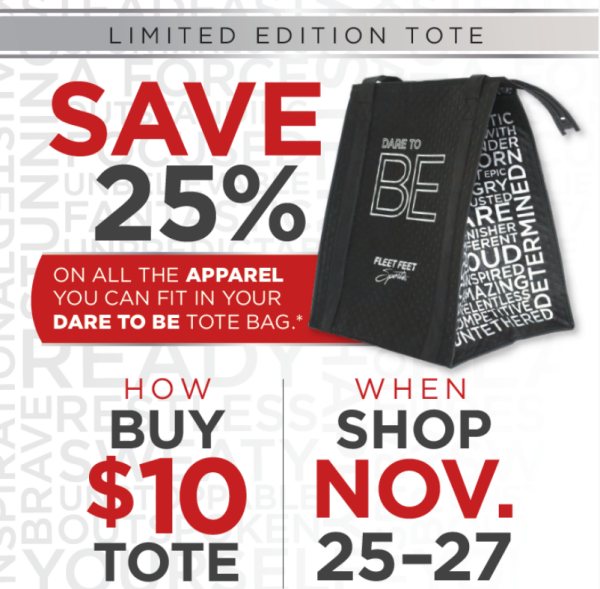 Limited edition tote bags are available in store for $10. Bring it back
between November 25-27 and receive 25% off all apparel you
can fit in the bag.* Thanks for being a FITNATIC!
Pre-Order you bag now, before they sell out! Quantities are limited! You can also head to all three Fleet Feet + FrontRunner locations today to purchase your tote!
Click here to pre-order yours and we will see you November 25-27 at all three Fleet Feet + FrontRunner locations!
Bags will be available to pick up in the location of your choice beginning at 8am on November 25th!