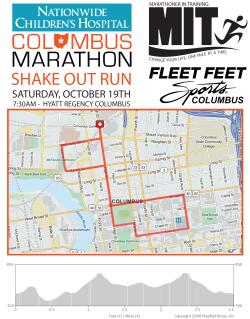 On Saturday, October 19th at 7:30am in preparation for the marathon. We are hosting our 2nd Annual MIT Shakeout Run/Walk for the Columbus Marathon! Join Marathoners in Training (MIT) for a short interactive tour of the start and finish areas. We will kick things off at the Hyatt Regency at
350 N High St, Columbus, OH 43215
. We will meet in the turnaround lot just to the north of the hotel on High St. Look for the Einstein Bagel Co., or the hundreds of runners waiting to shake it out!
Along the way, we'll show you the post-race meeting spot in McPherson Commons, we will give you a brief tour of the starting area pointing out where the corrals and port-o-pots will be, then on to the finish so you can see what you've been working so hard for!
Afterwards, we will head over to the expo together.
Parking is available in the Hyatt lot as well as metered parking along High Street.
Why do a shakeout? Shakeout runs/walks the day before a big race are fun and relaxing and they help settle the nerves. You want to feel your legs light and loose, you want to talk and laugh and breathe easy and marvel at your conditioning. Because tomorrow you are going to excel.
Equally important are the physiological benefits. Firing up your neurotransmitters before the big day will make those first couple miles of the race feel less abrasive. Stimulating your nervous system allows your brain to increase the efficiency in which your muscle fibers fire. A short run or walk before race day also helps improve blood flow so that on race day your body is firing on all cylinders. Increased blood flow will help deliver the nutrients and oxygen needed to continue pushing our bodies.
Essentially, a shake out run serves as a means of warming the body up for race day instead of using those first 2-3 miles of the race. Keeping the run short will prevent you from depleting glycogen stores, will not fatigue the body, and will help you feel fresh as a spring chicken on race morning.
We are thrilled to be offering this again this year as we firmly believe they are effective and serve as a great way to get the MIT family ready to roll on race day.

Shake out runs/walks are highly encouraged the day before a big race. Shake out any remaining cobwebs. Do just enough to get you blood flowing and get you ready to roll on race day! Click here for a map of the course!