I was playing around in the kitchen with a few different flours I had while trying to figure out what to do with my overly ripe bananas, and this texture-filled muffin recipe was born! Have one as a snack, before a run or walk with some fruit, or post-workout with some nut butter!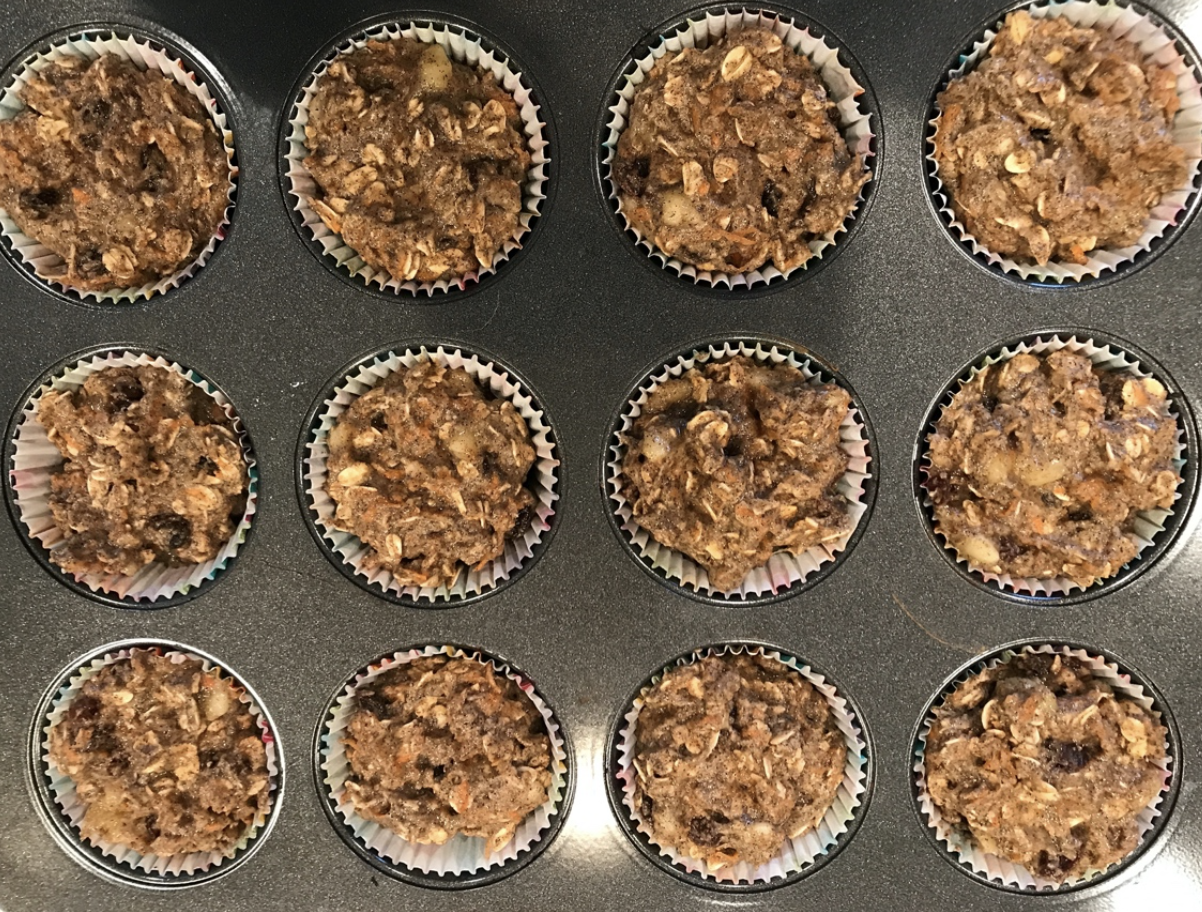 Key Nutrients and tricks:
I like to switch up the flours I bake with! Buckwheat flour is full of fiber, protein, and magnesium. This recipe can be made with any type of flour. I also like to replace ½ cup of the oats with almond meal as well.
I like to add dark chocolate chunks, cranberries, almonds, or dates to this recipe.
If the recipe is not sweet enough for you, add in another tablespoon of honey!
This is a perfect pre-workout breakfast since it is full of both simple and complex carbohydrates. The simple carbohydrates from the banana, maple syrup, and raisins will provide a quick source of energy, while the complex carbohydrates from the oats will keep you full throughout a workout without weighing you down.
Ingredients:
1 cup of buckwheat, spelt, or wheat flour
1 ½ cups of oats
2 Tbsp. of wheat germ
1 ½ tsp. cinnamon
1/2 tsp. salt
1 tsp. baking soda
2 ½ -3 ripe bananas, mashed
1 cup of shredded carrot
½ cup of unsweetened applesauce
2 Tbsp. of almond milk
1/2 cup of maple syrup
3 Tbsp. honey
1 tsp. vanilla extract
2 eggs
1/2 cup of raisins
3 Tbsp. shredded coconut, optional
Directions:
Heat the oven to 350 degrees. Spray a muffin tin with cooking spray or line with baking cups.
In a large bowl combine the flour, oats, what germ, cinnamon, salt, and baking soda. Lightly mix together.
In another bowl, use a fork to mash the bananas. Add in the shredded carrots, applesauce, milk, maple syrup, honey, vanilla, and eggs. Mix together. Add the dry ingredients into the wet and fold together. Add in the raisins or other optional add-ins.
Use an ice cream scoop to pour the mixture into each muffin tin.
Bake in the oven for 20-25 minutes.
Cool on a cooking rack before storing.