We just added 10 amazing new gift ideas! Be sure to check out the full list!
We know the fitnatics in your life are always looking for the latest gear for their active lifestyles. We also know it's not always easy keeping up with your fitnatics wish list. Let us help you out with our 2014 Holiday Gift Guide.
Now through December 28th you can find amazing offers for you and your fitnatics. All items on the 2014 Holiday Gift Guide below can be found at Fleet Feet Sports Columbus, the home of the #6Run4! And what Holiday Gift Guide would be complete with out special holiday savings? Our holiday savings are listed below, and don't forget that we ship for FREE so you can always give us a quick call and we'll do your shopping for you!
$10 off select shoes! (PLUS A FREE GIFT WITH PURCHASE)
15% off ALL apparel!
Balega Socks Buy 3 Get 1 FREE!
15% off accessories!
15% off nutrition!
10% off electronics!
50% off clearance apparel and shoes!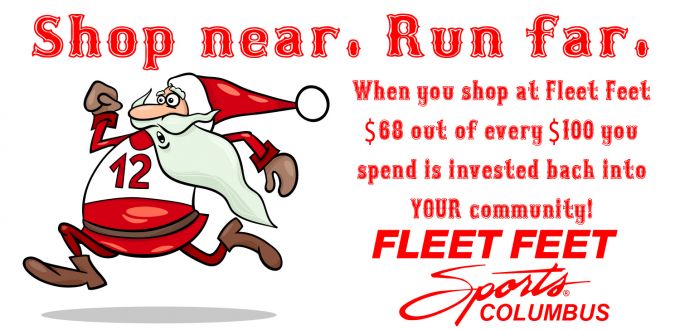 2014 Holiday Gift Guide

1. Yurbuds
Looking for a fun and useful stocking stuffer? Pick up a pair of 
yurbuds™
Inspire 200 during our 
#FleetFeetFITmas
 sale in 1 of 3 fun colors! Other styles and colors available as well. 

2. New Balance His & Hers Windblocker Jackets and Heat Tights
Stay warm and toasty this winter with the perfect pairing of comfort and superior technology. You stay warm and dry, while looking pretty fresh as you blaze down the trails in the #6Run4.

3. CEP Compression Leg Sleeves and Socks
CEP Compression socks and sleeves make a perfect gift for the athlete who wants to improve performance. Beat cramping, speed up recovery and feel better after every run with compression!

4. Garmin Heart Rate and GPS Watches
Keep your fitnatic on pace this holiday with a new Garmin!

5. Fleet Feet Card Gift
Why not let your fitnatic go on a shopping spree! Plus, when you purchase a $100 gift card for your fitnatic you receive a FREE $20 gift card for yourself!

6. For the lady fitnatic - Support your girls with properly fit sports bras!
Guys you may not know this, but buying a new sports bra is usually not high on our list of things we girls prefer to spend money on. We can look up the style and size your lady prefers and you can surprise her with one in a fun color for Christmas! During our 
#FleetFeetFITmas
 sale they are 15% off!
7. For the gentleman fitnatic - Protect your boys this winter!
Guys know all too well the discomfort that can come from running unprotected. Brooks Wind Briefs and Wind Boxers provide the protection from the elements that every guy needs. Don't skip on this item!

8. Yaktrax
Do let you training slip this winter! Yaktrax provide the traction need to keep your fitnatic moving this winter!

9. Balega Wool Socks
Everyone know Balega is the best sock around, but did you know they have a full line of wool to keep your feet warm and dry! They do, and you should get a pair of these on your feet this holiday season. You'll love to comfort of Balega's merino wool!

10. Addaday Massage Rollers
No fitnatic is complete without an Addaday roller. These little suckers will keep your fitnatic loose, limber, and ready to roll this winter! Plus, if you play your cards right, you can get yourself a nightly massage from your fitnatics new Addaday roller!

11. Change everything! Give the gift of fitness!
Sign you and a friend or family member up for one of our upcoming training groups! From weight loss, beginner 5K training, to half and full marathon training we are the most trusted source for training in the midwest. Find out more at
TrainWithFleetFeet.com

12. We love the town we run in. Show your love of the #6Run4
We have a great selection of new #6Run4 shirts! Stoip in and check out the styles and pick up on for you and your favorite fitnatic!

13. Stock up your fitnatics stocking with GU!
Your fitnatic goes through these the way others go through Kuerig K-cups. All GU and other nutrition products are 15% off through December 28th. What better surprise could your fitnatic find than a stocking full of their favorite nutrition products?!

14. Sign your fitnatic up for the 3rd Annual Rocks and Roots Trail Series!
Every no and then it's great to get off the pavement and get a little dirty. The new Rocks and Roots Trail at Alum Creek was built by runners for runners. Participants get a sweatshirt, two event tees, two finishers medals, an Amphipod Handheld, a pair of Balega socks and 2 Clif products! Sign up at
www.RocksAndRootsTrailSeries.com

15. Get the most versatile storage belt!
Spibelt is the leader in sneaky little belts that store a whole lot! They stretch to securely store loads both large and small. From the shortest runs to the longest your fitnatic will love their new Spibelt!

16. Winterize your little hottie...er fitnatic!
Keep your fitnatic toasty this winter with Little Hotties Hand, Feet, and Body warmers! Great for stockings hung from the hearth, or slipped on your feet!

17. Books, books and more books!
We know your fitnatics love to be well versed in all things running and walking! We have a wide variety of books to suit your fitnatics interests. Run on by and check out our favorites!

18. Eyes need protection 365 days a year!
Protecting your eyes isn't just important on sunny days. Our eyes are sensitive to the cold just as much as the blazing sun. Protect your fitnatics eyes with Tifosi sunglasses and their interchangeable lenses perfect for any condition!

19. Everyone loves a schnazzy Holiday ornament!
From Ohio inspired ornaments to ornaments celebrating first 5Ks and marathons, we have an ornament for your fitnatic. Run by the shop and pick up the perfect ornament for your fitnatic!

20. Give your fitnatic an entry into the training series that keeps on giving!
Sign your fitnatic up for the 2015 Scioto Miles Spring Training Series and they get two races (March 22nd and April 12th) with 3 distances to choose from (5K, 10K, and 15K). With their entry your fitnatic with receive a pair of Saucony shoes, two race shirts, and two finisher's medals. And of course, the Scioto Miles Spring Training Series will keep your fitnatic motivated and moving forward all winter and spring! Sign up your fitnatic today by heading to
www.sciotomiles.com
!