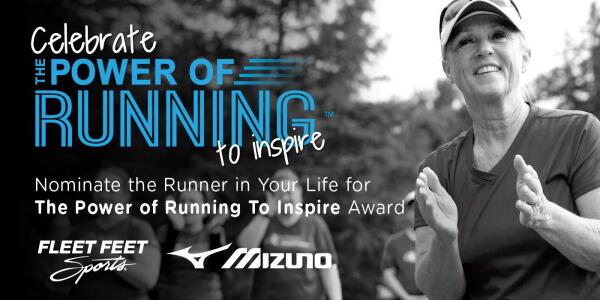 In September you nominated your running inspiration. We've selected our 5 finalists from your amazing submissions! Criteria for the selections was based upon a number of factors including: one who improved his or her health, overcame challenges, raised money for charity, or rallied communities. All through running.
Join us on Monday, October 12 at 6:30pm as Mizuno and Fleet Feet recognize these local runners. We'll head out for a short run, come back for refreshments, present the awards to our 5 finalists, PLUS announce our candidate from the pool of five for the national prize! Each of the 5 finalists will be receiving a pair of Mizuno Wave Inspire 12. Our candidate for the national prize will receive a $100 Fleet Feet gift card and will be eligible to receive $500 for continuing their inspirational running efforts.
Check out the finalists and their stories below! Don't for get to vote at the bottom of the pagefor the candidate you feel should be our representative for the national prize!
Mike Herron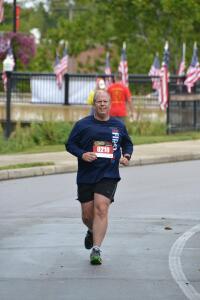 I would like to nominate Mike Herron for consideration of "The Power of Running to Inspire Award" in recognition of his outstanding leadership and tireless efforts in raising awareness of running in Westerville.  Mike is a recreational athlete who can sometimes be spotted running along one of Westerville's twenty-nine miles of recreational paths.  His enthusiasm for running began over twenty years ago.  For Mike, running enables him to enjoy the outdoors, remain active, and allows him to be an ambassador for the Westerville running paths.  When not on the paths, Mike exemplifies service above self through his commitment to involve others in running. He helps promote close to twenty different running events involving thousands of people in the City of Westerville throughout the year.  This also includes hosting numerous "No Boundaries" groups in the local parks and recreational paths as participants begin their quest towards completing a 5K.  Mike's most notable achievement is the award winning "Field of Heroes 5K".  In only its third year, it was recognized as the "Best Fitness/Run Even" in central Ohio by City Scene Magazine.  This family-friendly 5K run/walk features a flat course on paved recreation paths, against one of the most memorable backdrops. The participants pass by 1st Responders Park where a piece of 9/11 steel is located.  One of the most unique features of this course was the opportunity to run through Fire Station 111 and then, in the home stretch of Mile 3, runners/walkers pass through a field of over 3,000 full size American Flags.  Mike was instrumental in directing this inspiring event.  This 5K, which involves numerous first time runners, has grown from 317 participants in its first year to over 1,200 this past spring.  Additionally, in 2015, the Blue Star Mothers organization, which directly impacts those overseas serving in our military, received over $10,000 from the "Field of Heroes" race proceeds.  Mike has earned the gratitude of those he has inspired and motivated to lead a healthy and active lifestyle. I strongly urge you to award him the "The Power of Running to Inspire Award". 
Cory Sager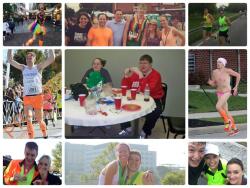 The picture included as my nominee photo--that was me 5 years ago, just a young boy who was in his first year of school after failing out the first time around. I was easily over 300 lbs and had no drive or zest for life. I didn't know who I was and at that time was fighting a battle with my sexuality and just who I was as a person.    All those other pictures are after I discovered good health, nutrition and fitness- namely running. Starting out in 2012 I made a New Years Resolution to lose 60lbs and run my first 5k. By the end of the year I had completed a 10K and a half marathon.     I continued to fall in love with it and every day discovered a little bit more of who I was and what challenged me to be the best I could possibly be. From runs in a speedo to being in a wig, cat tank and rainbow tutu- running has never judged me, made me feel inadequate and as allowed me to express myself without fear or rejection. When I run, I feel free and without running, who knows where I would be. One thing is for sure, I would never have become this confident or secure in myself without it.     And all these people you see, they're runners too and without them- I wouldn't not be the person I've become today.
Orion Hall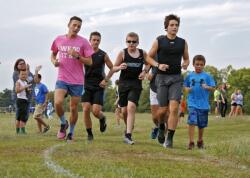 Orion has not only inspired me, but his cross country teammates, The Heritage Middle school, Hilliard City School District and many more.  Orion was diagnosed with autism at the age of three.  At the age of 7 he was reading, writing and doing math at a first grade level.  Then at age 8 he had a major regression.  He lost the ability to speak, use his hands, communicate, had multiple panic attacks a day, seizures during his sleep and seemed lost in his own world.  Through many doctors visits, more tests than can be counted and multiple trials on different medications, Orion gained back the use of his hands and limited speech.  Today at the age of 13 he is inspiring everyone he meets.  This summer he began training with his mother and the Hilliard Heritage Middle School Cross Country Team.  No one was sure if he'd ever run a race.  He began running by shuffling his feet and extremely bent over at the waste. He couldn't even make it ½ a mile before he needed to walk. After 10 weeks of practice with his mother and teammates, never sitting out any practice, always doing what was asked of him and everyone else on the team, he ran his first race!  With the help of some high school runners he finished his first meet ever with a time of 21:03 for 2 miles.  Orion is always ready for practice and jumps right in with his teammates for the warm-up run, the drills and workout.  If he is asked to do hill training, he does hills.  If he is asked to do repeat 800's he does.  He started out as the slowest runner and has worked his way up.  He just completed his 5th meet with a personal best of 19:31.  He leads by example of never quitting.  Even though he may not look you in the eye, or respond to you with words, he's been an inspiration to all that meet him.
Tonja Stewart

Tonja has inspired me from the day I met her in 2000 but in the past few years I have been able to get to know her better.  Then most recently in 2012,  there was a life changing monumental event in her life!  She suffered a burst brain aneurysm and another was found and removed safely.  That summer she missed her daughter's high school graduation, several months of that year and most importantly she almost lost her life.  This is a women who while at the Ohio State University , running track, she won many races and still holds a record there.  She continues to help so many thorough philanthropic work, from helping many youth in the classroom, and on the field, as well as assisting schools with tutoring, track timing and is now a trained track and field official.  She balances work, family, teaching a college course periodically and a track referring schedule!  Her most recent endeavor was the promotion and coordination of the African American Male awareness Wellness walk in Columbus, Ohio and she assisted in another city as well.    All these years she has kept up her training and running schedule with so many other activities, and has completed a marathon last year and a midnight half marathon in Iceland this year!  She has great ideas for healthy eating, has given guidance to my daughter for her training for a half marathon and has helped me realize that my inability to run is ok and that I can walk and eat my way to better health! 
Deb Merritt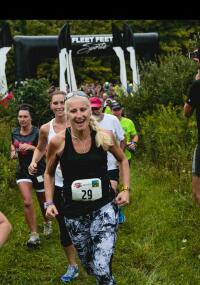 It my pleasure to nominate Deb Merritt from Van Wert, Ohio  for The Power of Running to Inspire Award.  Deb came into my life about 3 years ago at the gym.  Over time, we have built a friendship that will last a lifetime.  Deb continues to Inspire and encourage others at the gym.  Deb has overcome health issues to find the true journey in life.  Numerous years prior, Deb was diagnosed with MS.  From various conversations over the years, I learned that Deb took the diagnosis very hard.  Basically, she gave up on living life and gained a lot of weight.  Over numerous years after taking an experimental drug to minimize the affects of MS, Deb realized there was a life to live.  She joined a workout facility and started slowly improving her life.  I met Deb at spin class.  Deb continued to push herself hard and continued to embrace a healthy lifestyle. Deb has overcome the weight issue and has lost over 100 lbs.  After Deb found out that I enjoyed to run, she encouraged me to keep challenging myself.  Over the last year with Deb, I have ran numerous races including a 10k trail run at Alum Creek and a half marathon.  Deb completed the half in just over 2 hours.  Deb continues to spread her love for running by encouraging others young and old to take that first step.  Deb now instructs a circuit training class and then started a small running group after class.  Several have taken Deb's encouragement and ran their first 5k race this past summer.  Deb is a big motivator of the group and has encouraged others to sign up for a 10k trail race in November.  Numerous young kids in the group have joined school running clubs and have set 5k race goals.  Several have improved their times where they will be right behind Deb at the finish.  In her 50's, Deb is now running 5k's in the 25 minute range and finishing top or towards the top of her age group.  This is a tremendous improvement from her very first 5k race finishing second last.  With Deb's encouragement and leadership, these young kids will reach their goals and continue on a healthy lifestyle journey. It would be an honor for Deb to be a finalist winner in The Power of Running to Inspire Award contest.  Deb would use her winnings to continue to promote fitness to the young generations.  Knowing Deb, she would take kids shopping for proper running gear, train and lead them in a fun race. Deb is truly an inspiration to me and many others at the gym as she daily battles the pain and symptoms caused by MS.  No excuses just keeping moving forward.is Deb's attitude!