Boston365 Training Program
A program for those who are registered for the 2016 Boston Marathon.
Training Days & Locations:
Training begins Saturday, January 2nd
Wednesday's at 6:30pm | Thomas Worthington High School
Saturday's at 8:00am | Training Locations | Most often hosted at Thomas Worthington or Whetstone High School
SOLD OUT FOR 2016
Boston365 Program Overview
The program is offered for those who are registered for the 2016 Boston Marathon.
Fleet Feet Sports Boston365 Training Program
2016 Boston Marathon participants - (for those who are registered for the 2016 Boston Marathon)
Make your 2016 Boston Marathon weekend the experience of a lifetime!  At Fleet Feet Sports, our acclaimed Boston Bound™ training program is about more than just running the race.  It's about developing lasting bonds with your training partners and creating unforgettable memories in Boston over race weekend.  Official race sponsor adidas (in partnership with the Boston Marathon and BAA) is the exclusive sponsor of this program bringing participants an unmatched "behind the ropes" experience in Boston.
The Fleet Feet Sports Boston365 Training Program is a coached, 15-week program designed to: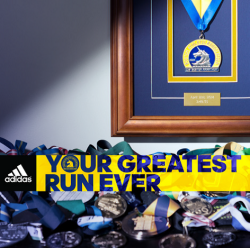 Help you physically and mentally prepare for the Boston Marathon
Overcome Columbus's lack of hills and difficult winter training conditions
Create community and camaraderie among all participants
Alleviate the stress of race weekend detail planning so you can focus on the Boston Marathon experience
Provide unmatched amenities in Boston, not only for you, but for your invited guests as well
Program Benefits: train with the best to achieve your desired result
Weekly 15-week day-by-day training program coached by Marathoners in Training and 8-time Boston finisher and running guru Dave Calvert.
Wednesday Evening Speed/Tempo Run at Thomas Worthington High School
Fully Supported (Gatorade and water all provided) Saturday Morning Long Runs with Marathoners In Training
Hill Training that mirrors the Boston Marathon Course
Boston365 program apparel and gear
Private clinics on topics including race prep, hydration, and nutrition
Special Boston-themed shopping and social events
Weekly Boston365 Email Newsletter with workouts, training tips and special offers
Post-event celebration party
Boston Amenities: from start to finish we have a plan for you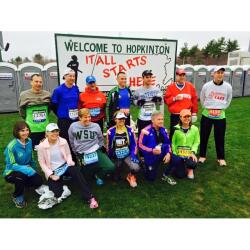 Pre-race party Friday at McGreevey's pub - meet your fellow training participants from all over the country
Traditional Shakeout Run along the Charles River on Sunday morning 
VIP Room at the Marriott Copley Hotel for the ENTIRE race weekend. 
VIP pre-race lounge for runners prior to boarding buses to start line. Open at 5am with coffee, bagels, hydration and gear drop 
Private adidas charter buses to the start line in Hopkinton – stay on the buses until your wave start! You can leave your gear on the bus until you start and it will be waiting for you in the VIP room post race!
Post race VIP includes massage therapists, food, beverages and music. 
Boston365 (with Boston Amenities) Program Fee
$365 - Includes membership for the entire 2016 MIT Season. 
The Boston365 portion with Boston Amenities is limited to an 18 person capacity. 
SOLD OUT FOR 2016
Questions? Email Jenn - jenn@fleetfeetcolumbus.com