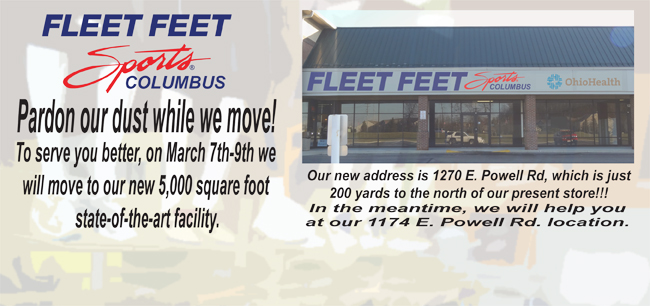 On or about March 8th, we will move into our new 5,000 square foot state-of-the-art store. Among other customer amenities in our new store, we are working with OhioHealth in the development of a dedicated space for patient screening. The space will be served by Sports Medicine Physicians, Foot and Ankle Doctors, Physical Therapists, Athletic Trainers, and other medical practitioners who will be available for consultations with our runners and walkers.
Other new store amenities include:
Dartfish Video Gait Analysis
Sunday morning Yoga for Runners with Yoga on High
Comprehensive Triathlon Products and Services
Yoga & Lifestyle Footwear and Apparel
Expanded selection of Electronics, Nutrition and Accessories
 We still have a long way to go to fully serve Central Ohio. For all those that we have had the privilege to serve, from shoe fitting, to getting involved in training programs, to completing their first race, to referring to our medical partners; there are thousands more who we can still serve.
Our grand opening will span March 9th to March 18th. With the new store opening there will be a lot of great deals, and several fun, free events throughout the month, but no "Special VIP Party".   All of our customers are our VIPs, and each day we serve you is a party!