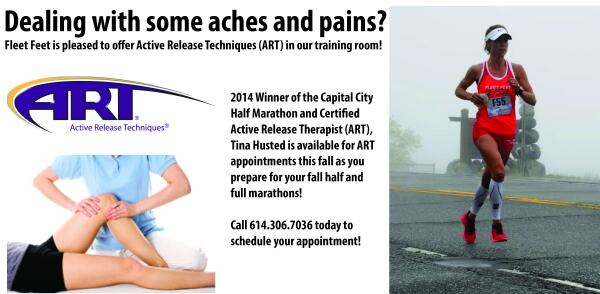 Dealing with some aches and pains? Fleet Feet is pleased to offer Active Release Techniques (ART) in our training room!
What is Active Release Techniques (ART) to Individuals, Athletes, and Patients?
ART is a patented, state of the art soft tissue system/movement based massage technique that treats problems with muscles, tendons, ligaments, fascia and nerves. Headaches, back pain, carpal tunnel syndrome, shin splints, shoulder pain, sciatica, plantar fasciitis, knee problems, and tennis elbow are just a few of the many conditions that can be resolved quickly and permanently with ART. These conditions all have one important thing in common: they are often a result of overused muscles.
How do overuse conditions occur?
Over-used muscles (and other soft tissues) change in three important ways:
acute conditions (pulls, tears, collisions, etc),

accumulation of small tears (micro-trauma)

not getting enough oxygen (hypoxia).
Each of these factors can cause your body to produce tough, dense scar tissue in the affected area. This scar tissue binds up and ties down tissues that need to move freely. As scar tissue builds up, muscles become shorter and weaker, tension on tendons causes tendonitis, and nerves can become trapped. This can cause reduced range of motion, loss of strength, and pain. If a nerve is trapped you may also feel tingling, numbness, and weakness.
What is an ART treatment like?
Every ART session is actually a combination of examination and treatment. The ART provider uses his or her hands to evaluate the texture, tightness and movement of muscles, fascia, tendons, ligaments and nerves. Abnormal tissues are treated by combining precisely directed tension with very specific patient movements.
These treatment protocols - over 500 specific moves - are unique to ART. They allow providers to identify and correct the specific problems that are affecting each individual patient. ART is not a cookie-cutter approach.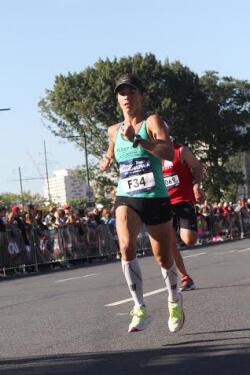 About Tina
2014 Winner of the Capital City Half Marathoner, Tina Husted has been a member of the Marathoner In Training group since 2011 and became a 7:30/sub 3hr pace coach in 2012.  Her 2011 re-entry into the running world originally began with a goal to run a 50 miler before turning 40--since then she has run multiple ultra races, full and half marathons and other races- many in  which she has placed or won.  
 In 2013, she was 2nd in the women's masters Chicago Marathon with a time of 2:52:18, 3rd in the women's masters at the Philadelphia Rock and Roll Half Marathon and won the Arnold Classic Pump and Run.
  Tina
 attended Ohio University where she ran track and received her degree in Physical Therapy in which she has been licensed for 18 years.  Tina is currently the head track coach at Worthington Christian Middle School. She also has been assistant coach at the Hilliard Davidson/Weaver School system for both track and cross country, is a Certified Weight Trainer (CWT), a Certified Active Release Therapist (ART), and a certified coach with the USA Track & Field and Ohio High School Associations.
 She lives in Upper Arlington with her husband Jon and their three children.
Call Tina to schedule an appointment today! 614.306.7036
ART sessions with Tina are $65 for 45 minute evaluation and treatment and then $40 for 30 minute treatments thereafter.