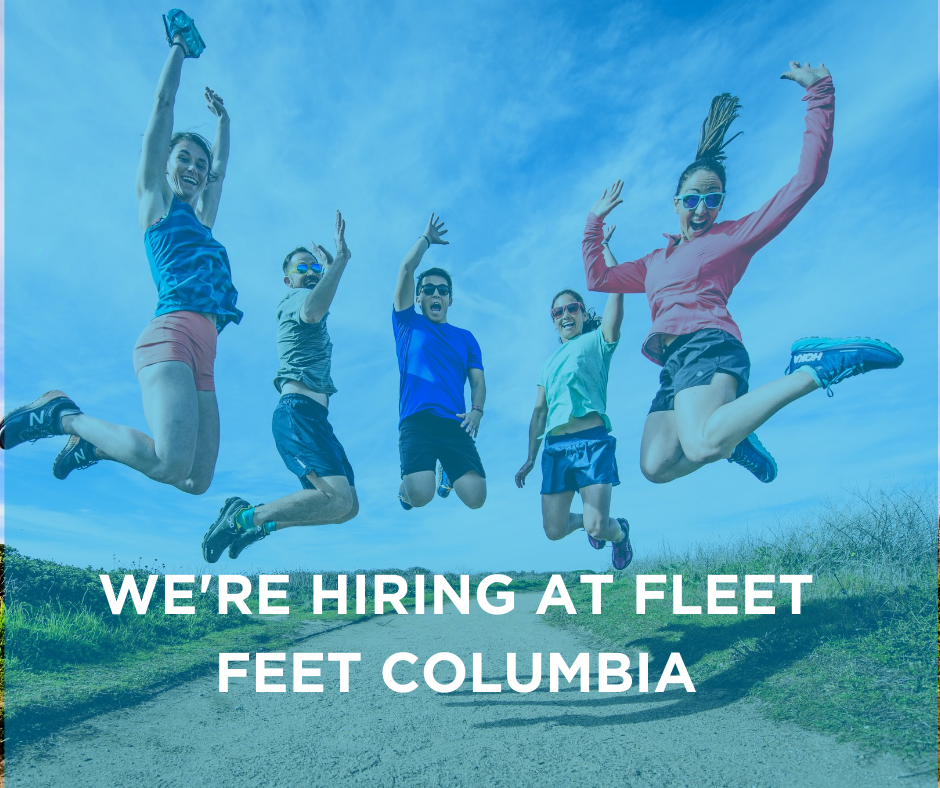 Before you consider filling out our employment application, we have some things for you to think about. Are you right for Fleet Feet Sports? Are we right for you? Test yourself with these questions:
Do you have a sales sense? Our customers appreciate learning about our products… from shoe technology to the importance of carrying a hydration pack. You should be comfortable (even passionate and excited!) about suggesting items people might enjoy.
Are you good at switching gears? When customer traffic slows, you will find yourself busy with stocking, cleaning, and more. But when somebody walks in the door, your focus has to switch 100% to friendly customer service.
Can you stay calm and friendly under pressure? Imagine providing superior customer care to 2 guests at the same time (with your other team members doing the same) while 5 more guests are waiting. They all want the same level of attention and care, they want it in a timely fashion and they want you to be friendly and appreciative. Things can get very busy here and there is always other work to be done. Expect a fast pace for hours on end.
Are you a team player? Fleet Feet Sports is like a family and we work closely with each other, sometimes under stress. And no matter what's going on in your week, your team members will be counting on you to be here 100% when your shift starts. We all depend on each other and support each other. You need to be respectful and patient, and you also need to pull your own weight when it comes to customers and other work that has to get done.
Are you willing to learn new things? People know us as the FIT experts. "FIT" does not just refer to shoes but all of our products and our service. You'll need to make an effort to get educated about all of our products so that you can deliver the highest level of service our guests have come to expect. We'll help you, but it will be up to you to ask questions and take the time to learn and remember things.
Do you pay attention to the little things? It's the thoughtful little touches that make a "specialty" store so special, like remembering a frequent guest's name or what type of shoe they run in. Going an extra mile for a guest by staying open late or rush shipping them a pair of socks before a big race is what sets us apart. Fun little extras go a long way and make your job worth the effort.
Are you patient and eager to serve people? We expect team members to take a friendly attitude towards customers-to smile and greet them as soon as they walk in, make conversation with all kinds of people, serve their needs, to take time and care for them. If you feel shy or awkward about talking with strangers or if you are not willing to serve guests (even touch their feet) you might not like it here.
Are you available in the evenings and weekends? In this business, evenings and weekends are a KEY TIME when many of our customer's shop and stop by the store for one of our many fun runs and seminars. It is critical to our continued success that our employees be flexible and comfortable working a variety of shifts, including evenings and weekends.
If you answered "yes" to these questions, please bring a one-page resume to the store. No phone calls, please.
NO PRIOR EXPERIENCE IS NECESSARY. YOU JUST HAVE TO HAVE THE PASSION FOR HELPING PEOPLE AND A PASSION FOR RUNNING, WALKING, AND FITNESS!
The Rundown:
As a FIT Professional, you are a key contributor to our brand's success. We strive to inspire the runner in everyone by empowering anyone who runs through social experiences and personalized solutions. Joining Fleet Feet is joining a team and a community that ignites and promotes running and fitness. You will be part of a dynamic group that builds and maintains meaningful relationships with customers, vendors, and peers by listening to customer needs, providing personalized solutions, and, ultimately, outfitting them with everything they need to get started or keep going. We pride ourselves on putting people first and know that what we do each day does not happen anywhere else. We truly believe that running changes everything.
Qualifiers:
***Weekend and evening availability***
Proactive learner and sound decision-maker
Passionate, positive, self-motivated and detail-oriented
Accountable and adaptable
Does the right thing
Collaborative and customer-centric
Willing to go above and beyond when needed
Communicate professionally with customers and team
Deliver the best customer experience by outfitting each customer that walks through the door
Support all Fleet Feet initiatives, activities, and functions
Perks:
High energy and fun atmosphere
Training and advancement opportunities within the Fleet Feet brand
Community involvement and community service activities
Training Program, Race entries, and Product discounts
Passionate team members
Want to join our team?
Are you looking to turn your passion into your career, work with like-minded people in a fast-paced, fun and customer-centric environment? Then we want you!
At Fleet Feet, we believe that running changes everything. For over 40 years, we have curated and created products, programs, and experiences that inspire and empower runners and their communities. We believe it's a privilege to serve and remain committed to delivering unmatched service and support when outfitting customers in everything they need to have a successful run, whether introducing them to their new favorite running shoes, socks, gear or inviting them to our next training program run.
We like to keep things high-spirited, fast-paced, and fun. We don't mind wearing more than a few hats and stepping in to help out wherever is needed. Our team is a group of knowledgeable and hardworking individuals who work, sweat and live passionately. We run together to solve a problem, reach a goal, get inspired, and champion our brand each day. We are in full pursuit of finding passionate people to join us on our quest and bring our core values to life.
Path to Ownership
Fleet Feet Sports Locations Nationwide - Job Opportunities
Locations
Irmo
945 Lake Murray Blvd.
Irmo, SC 29063
M-F: 10am - 7pm
S: 10am - 6pm
Su: Closed -

View Store
Forest Acres
4525 Forest Drive
Columbia, SC 29206
M-F: 10am - 7pm
S: 10am - 6pm
Su: Closed -

View Store
Lexington
5594 Sunset Blvd
Lexington, SC 29072
M-F: 10am - 7pm
S: 10am - 6pm
Su: Closed -

View Store