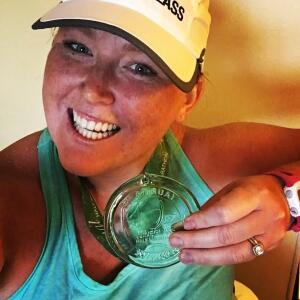 Like many other runners, I first started running as a means to lose weight and get healthy. I have never been a naturally strong or fast runner but I would say that inner love of running is definitely  in my DNA.  I'm the daughter of a man who ran multiple marathons in his prime and a woman who was a Phys. Ed teacher who never sat still. I'm the sister of a marine who spent high school crushing 5 minute miles and is training for his first marathon, which he'll likely beat my half marathon time ;).
I didn't start running regularly until after college. I was a young professional living in a new city without knowing anyone and I turned to running to fill a void in my life I couldn't fill.
I moved to Cleveland in the fall of 2014 with my husband, Dave. He, a native of central Ohio and a graduate of Miami University, had many friends in the area and was quick to consider Cleveland "home." I, a native New Yorker who has moved 5 times in my short adult life, was much slower to embrace it. When I first moved here, I explored downtown on foot with short runs to get to know the city better. I was eager to meet people and searched for running groups in the area. That is where I found Fleet Feet.
In January of 2015, I joined my first Fleet Feet training program. The group was small but mighty and together, we trudged through some tough Cleveland winter elements. After being derailed by injuries, I ran the Cleveland Half Marathon in May of 2015 and called it quits for a few months. In January of 2016, I joined the spring More Miles group and finally found my "home" in Cleveland. This was a larger training group where I found my niche. I found more than "training partners" but I found friends.  I found a group of people 50 deep that inspired me daily, pushed themselves to new limits and continuously looked to improve. This tribe was one that helped carry me on long runs when I didn't think I could make it another step, they made me want to be better and certainly kept me coming back.
I travel frequently for work and there are many weeks when I'm home only for a night or so each week.  As much as I want to stay home and cuddle up with my dogs and husband on the couch, the team and the smiling faces of More Miles continue to get me showing up and putting the work in.
I would be lying if I said I always love running.
Most of the time when I'm doing it, I curse and say I am never doing it again. The things that get my coming back are the running community that I have built, the mental toughness that I have developed and the strength that it gives me! Also, running is portable. You don't need a gym or a membership- all you need is some good shoes (Check out Fleet Feet!) and the open road. It has proved to be the best way to scope out new cities.
To date, I have run 7 half marathons and multiple 5K and 10Ks. Running has stayed with me despite many life changes, moves, and travels. It has never given up on me and I have never given up on it. Am I as fast as I want to be? Absolutely not (in fact, I keep slowing down!). I hope to continue running and getting faster. I definitely have my sights on more half marathons. One day I hope to run a marathon but that probably won't be any time soon-  I know I'm not mentally up for the training commitment with my current schedule. In the meantime, I'll keep on going- one foot in front of the other- surrounding myself with a community that inspires me every day!
When I'm not running, I can be found at Harness Cycle or Orange Theory Fitness, walking my dogs all over downtown Cleveland or at just about every Cleveland sporting event. This reluctant Cleveland transplant has embraced this city for all that it is, especially for the running community!
Written by Kelly Pezley - Fleet Feet Sports More Miles Member. Learn more about More Miles.