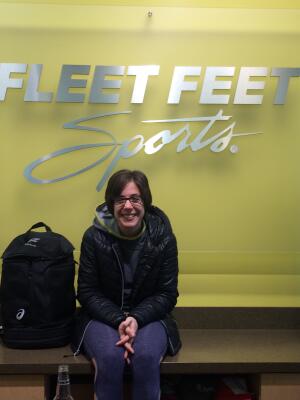 Sarah Trask 
My running history: "I have run 7 Marathons, 2 50Ks, and 1 50 mile race."
Favorite race: "My favorite race ever was the Moebius 50K in 2014.  It was my first Ultra and I will never forget it!"
Why I work at Fleet Feet: "I came to work at Fleet Feet because I needed a positive and lasting change in my life. I needed to feel like I was giving back to my community and doing something positive for myself and others. I found that and so much more. 
My favorite part of working here is seeing the impact that our team makes on a daily basis. This could be anything from a positive experience on the fit bench ('Wow, I can run/walk with no pain in this shoe!') to hearing that I changed a life through our No Boundaries 5K and 10K programs.  If you work hard and look close enough, this happens every singe day."
Fun fact: "I played the role of a donkey in Pinocchio when I was 10."