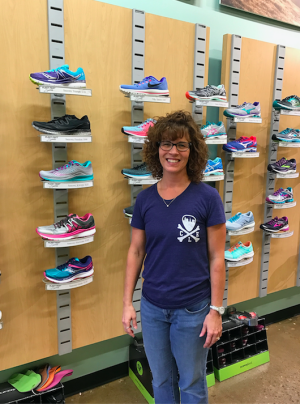 Mary Ellen Jones
My running history: "I would do the occasional 5K - you know, download a training program and follow it until the race - until February 2015. I had run the Chili Bowl that year and wanted to run more. The more I thought about it, the more I realized my ultimate goal was to run a half-marathon! Yikes! I had gotten emails from Fleet Feet before; so, I went to their website and looked at their training programs. The summer of 2015 I started training with Fleet Feet's No Boundaries program. I knew I needed to learn how to run, train, fuel from people who had more experience than me. Met an awesome group of people and had a blast! I continued on to NoBo 2.0 and ran even further. Then it was time for More Miles. I have completed one half marathon and am about to run my second.  And, NO - I have no plans to run a full marathon.
My favorite thing about working at Fleet Feet is now I get to hang out and work with the people I had gotten to know and like over the previous year and a half. Also, watching the training groups. Watching people blossom and develop confidence as they become runners. So many are nervous and insecure and unsure they can do it. But then they do and it's special to watch."
Fun fact: "I taught Jazzercise for 12 years. No leg warmers! I still go to class when I can.  I think it's great cross training. Been married for 28 years, 3 boys and 2 dogs. I love to cook, read, travel, play with my dogs. I volunteer at a dog shelter and I love it. Grew up in Rochester, N.Y.
Remember: You miss 100% of the shots you don't take!"