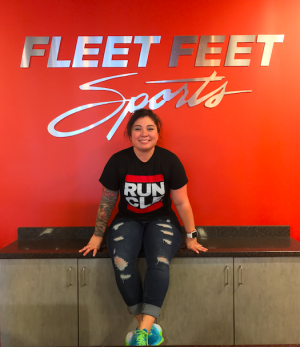 Krystol Chang
My running history: "I began running in 2011 after I had my fourth child to try and lose weight. I trained for my first race, the Cleveland 10K, completely on my own. That race made me feel like I could do anything and opened the doors to many more achievements."
Favorite race: "The Columbus Half Marathon. So many people fanning, a great course and my quickest race so far. I also really enjoy running trail races with a team!"
Why I work at Fleet Feet: "It's my dream job! It gives me everything I was looking for in a career. It allows me to balance home, family and running as well as meeting amazing and inspiring people! I also love learning about customers. How they started, why they run, the races they are training for is all so inspiring to me."
Fun fact: "Don't let the tattoos fool you! I love to listen to Hall and Oates and Lionel Richie on my long runs! Also, I prefer doughnuts over bagels."