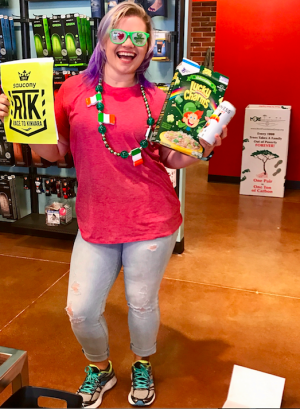 Kat Sutfin
My running history: "I started running 4 years ago on a journey to lose weight. I managed to lose 93 lbs and was hooked in the process. I heard about Fleet Feet through a wellness program at work and trained with More Miles for the Cleveland Half Marathon last year. Now I love being the 5K coach and helping people get through the toughest part of running -- just getting started."
Favorite race: "The most fun run I ever did was the Hermes 10 Miler. I felt like a rockstar the entire course, and I set a personal best as well."
Why I work at Fleet Feet: "I came to work at Fleet Feet because I didn't get to help anyone at my prior company. Every day I get to put people in the proper gear and hear about how it's made a difference in their training. Working at Fleet Feet motivates me to be a better me. I wake up every morning with a smile on my face knowing I'll get to make a difference in someone's day. 
My favorite part of working at Fleet Feet is that I can be myself. Where else can you have purple hair, wear shorts to work, joke about cats all day, AND win a trip to Ireland?!"
Fun fact: "I own 57 pieces of cat clothing. Also, the way to my heart is through cheesecake and beer."