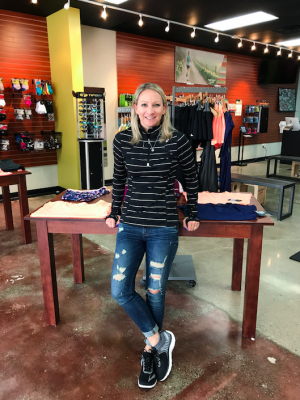 Adrianne Bailey
My running history: "I started running in 2011, when my sister-in-law encouraged me to try the couch to 5K program.  In the past, I really didn't care for running (I quit track twice in high school!!), but I wanted to try something new, and challenge myself to get out of my comfort zone.  After I ran my first 5K, I became hooked (obsessed if you will) and I'm still going strong.  Since 2011, I've run countless 5K and 10K races, 11 half marathons and 2 full marathons.  Currently I'm branching out even further, as I train for my first Half Ironman Triathlon that will take place in July of 2017."
Favorite race: "The Columbus Marathon in 2015. It was my first marathon and I will never forget the feeling I had when I crossed the finish line as a marathoner!"
Why I work at Fleet Feet: "Three simple words: I.  LOVE.  RUNNING.
"Prior to Fleet Feet opening the Strongsville location, I had already been in run specialty for 2 years. I love sharing my passion with other runners, helping them find the right shoes, and hearing about their successes and races.  I was "inherited" into the Fleet Feet family, and joining the team here is one of the best decisions I have ever made. 
My favorite part of working at Fleet Feet is meeting and helping new people every day at work.  Seeing customers out on the race courses or training in the park system brings a huge smile to my face." 
Fun fact: "Bacon is my favorite food. I could eat it every day!"