Meet Coach Lena!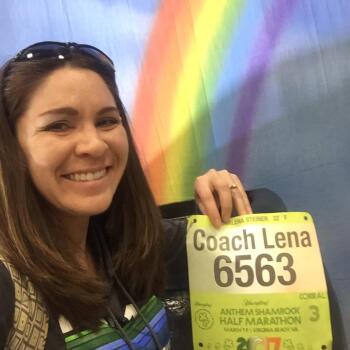 Lena began her running journey 16 years ago as a way to avoid the "freshmen 15" in college. After moving to Colorado with her Active Duty husband after graduation, her love for running grew living among the Rocky Mountains. She ran her first road race in 2009 (the American Discovery Trail half marathon) and her first full marathon in 2010 at Disney World. After that, she was officially hooked! She became a Road Runners Club of America Certified Running Coach, an American Council on Exercise Certified Personal Trainer and Group Fitness Instructor. Since 2009, she's completed numerous 5ks & 10ks, more than a dozen half marathons, and 7 full marathons, including Boston in 2016.
She has a 7 year old daughter and 2 year old son and ran the entire way through her last pregnancy. She runs to stay healthy, happy, and humble for her children and often takes one or both of them along with when she runs. 
 Coach Lena knows how difficult it can be to fit in running when there are so many competing priorities, but whether you've never put on a pair of running shoes or if you've been running for years, Coach Lena is here to help you reach your goals!