Our Coaches and store staff are your greatest assets and will literally be with you every step of the way.  But the support doesn't stop there.  You will have a group of dedicated Pace Group Leaders and Mentors that will not only set specific paces during group runs, but provide you with valuable information, tips, advice, motivation, safety, and wisdom - and the occasional entertainment!   
The truth is our Mentors and Pace Group Leaders are flat out awesome.  They share the same passion, dedication and love for running, walking, fitness and achieving goals as our Head Coaches and staff.  Each one of them has been selected for their roles because of the unique qualities they offer.  While training with us, every participant will be personally touched and coached along the way, and we pride ourselves in our Mentor, Pace Group Leader, and Coach to participant ratio.
Meet Your Fleet Feet Run Club Training Team: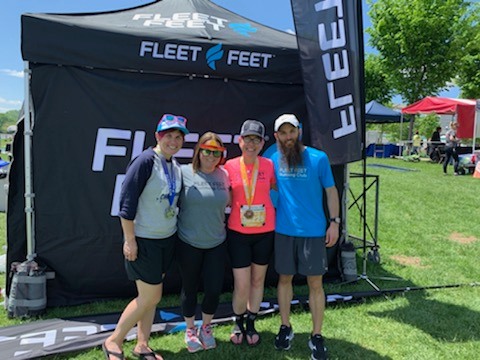 Heather Fencik, Katie Parker, Jen Loving and Brian Lenahan have years of experience in running, coaching and training. The Run Club Training Team will be your go to for support, questions, concerns and even serve as your personal cheerleading squad! They want YOU to succeed no matter your goals! They spend hours making sure you have a great training experience from the routes they create, special treats after you come back from your workout, scavenger hunts for longer mileage, pep talks during hill repeats, creating funny videos and most importantly...that you are having FUN while you put the hard work in! Get to know them...they know their stuff and are tons of fun! 
Pace Group Leaders & Mentors
With more than 80 "PGL's" and Mentors between all store locations and all paces, it is safe to say we have you covered while out on the roads - no matter your pace!  Our training programs would just not be the same without them!  Interested in becoming a Pace Group Leader for Half and Full Marathon Training?  CLICK HERE  Interested in becoming a Mentor for our 5K and 10K Training?  CLICK HERE
Coaches, Pace Group Leaders & Mentors More Info »
Program Start: July 2019
Program Fee: Fees vary for different programs