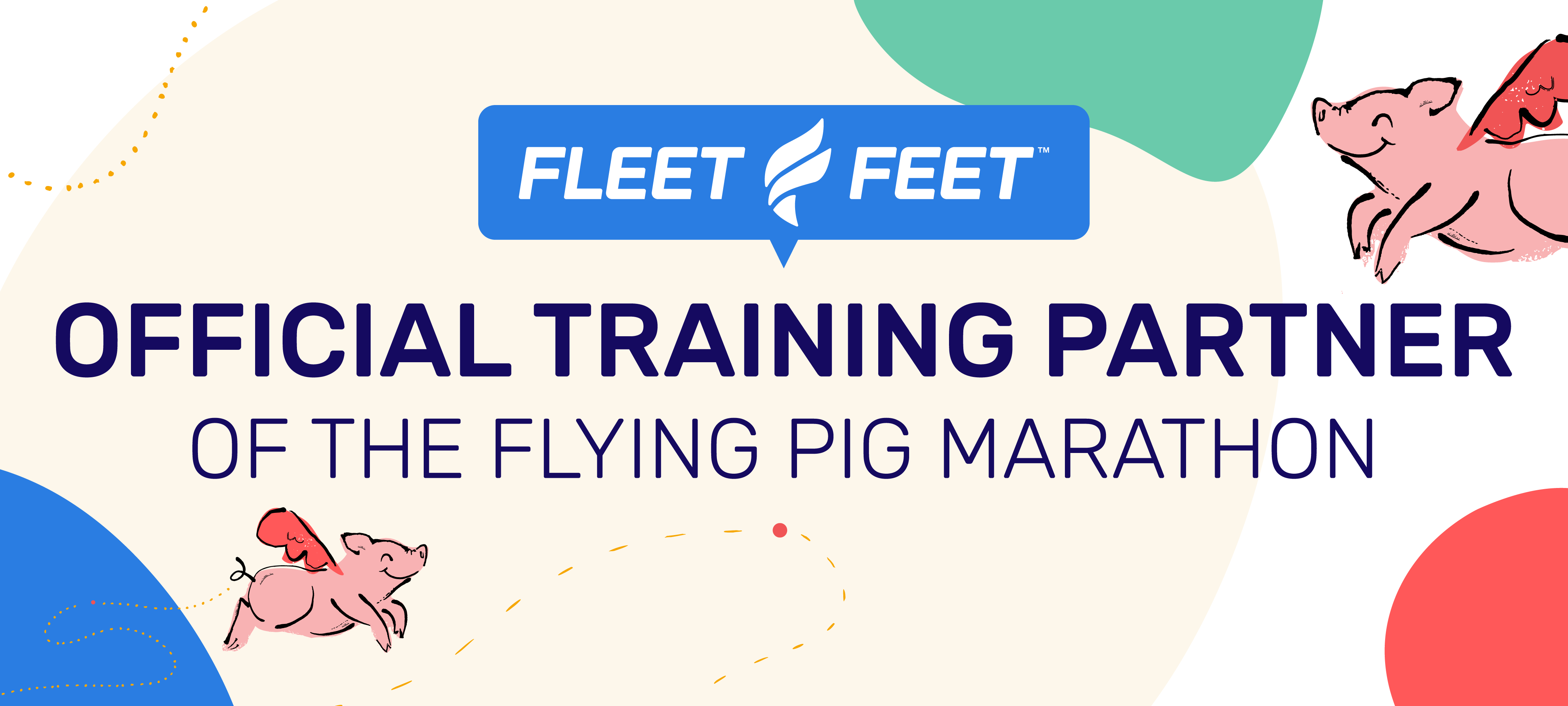 Welcome to the 2020 Heart Mini and Flying Pig Training! As always we will offer several different programs to meet everyone's different goals and ability levels. Of course 2020 will bring many new aspects to training and a few things will remain the same between them all - a super fun and encouraging environment full of unique opportunities, best-in-town perks, and professional run and walk training - not to mention awesome sponsors that can't wait to hook you up.
NEW FOR 2020! Three Training Locations!
With the opening of our West Chester store in May of 2019 we're officially launching our first Heart Mini & Flying Pig Training Session from all THREE Fleet Feet Cincy locations - Blue Ash, Oakley and West Chester! This means you can run with us up to four times per week. This makes us the most versatile and PREMIUM training programs in town. Check out the details of each program below to see which suits you best.
Fleet Feet Running Club Spring 2020 Menu
Fleet Feet Running Club Training Philosophy
No matter what program you join in the Fleet Feet Running Club you will have an experience that follows our Training Program Philosophy. We take pride in delivering premium, consistent and well-rounded programs for athletes of all ability and experience levels. Read more about The Fleet Feet Running Club Training Program Philosophy here.
---
Just getting into running or walking? A little nervous on where to start? We've been training new runners and walkers for well over a decade through our No Boundaries beginner 5K program. Complete with a dedicated Head Coach, specialized training and education plan and all of the benefits and perks of our longer distance groups. Our No Boundaries Program is the perfect program for any new runner, walker or someone simply interested in just getting moving.
During No Boundaries training more emphasis will be put on education and familiarization to the sport. Topics like understanding the basics of running and walking safety, proper gear, healthy nutrition, body maintenance, and of course a sound workout schedule, will all be covered throughout the program. We find that the more we teach new athletes, the more comfortable they are entering the sport and the more likely they are to succeed, be safe, and have fun - which is most important.
Participants will have direct access to the No Boundaries Head Coach and Mentors who will guide them step-by-step throughout the program. We take pride in making sure every participant has every resource available to be successful in this program. The collective goal of the group is the Heart Mini 5K and the Flying Pig 5K or 10K depending on individual preference.
Click here for complete details of the No Boundaries Beginner Specific Training Program.
---
As the official Training Program of the Heart Mini we always incorporate the half marathon, 15K and 5K into our Flying Pig training. Not only do we do this because of our close partnership with the Heart Mini, but the timing is also perfect to use these races as a mid-season check on your progress towards the Pig!
If you are training with us for the Flying Pig Marathon we will include the Heart Mini Half Marathon into your training schedule, and if you you are training for the Flying Pig Half Marathon we will include the Heart Mini 15K into your schedule. Note: this does not mean we enter you into the race or pay your race entry fee, we simply incorporate the race into your schedule and suggest you do it - but don't worry all Fleet Feet Running Club participants will get the best Heart Mini race entry discount in town!
If your goal race is the Heart Mini Half Marathon, you should join the Flying Pig Full Marathon Program.
If your goal race is the Heart Mini 15K, you should join the Flying Pig Half Marathon Program.
This will ensure that your training mileage and progression stays on schedule for a successful race day in March! Be sure to let us know after you register so we can make the appropriate adjustments to your schedule. And if you are inspired to continue training through the Flying Pig after you cross the finish line of the Heart Mini, you are more than welcome to continue with us!
---
Professionally designed and proven 17-week training schedule, distributed in three 5-week training phases, each with very specific training focuses:


Weeks 1-5: Base & Pace - these weeks are designed for you to establish your training pace and get comfortable in base mileage

Week 1: Let's Go: FFRC 101
Week 2: Gearing Up 101: Function meets Fashion
Week 3: #ShowUp: What's Your Why?
Week 4: Injury Prevention presented by Oxford Physical Therapy
Week 5: Cheers to Base and Pace: Hydration 101

Weeks 6-10: Build & Strength - these weeks we will begin to increase weekly mileage, add strength and flexibility training, and focus on consistency

Week 6: Run Nutrition 101 Presented by GU Energy
Week 7: Run Nutrition 102 Presented by GU Energy
Week 8: Run Recovery Nutrition Presented by GU Energy
Week 9: Everyday Nutrition
Week 10: Celebrate Your Build & Strength

Weeks 11-14: Sharpen & Lengthen - these weeks are designed to hit our highest mileage, longest runs, and most specific speed training

Week 11: Heart Mini Prep
Week 12: Store to Store Adventure
Week 13: Troubleshooting 101 -You don't have to be nervous about your race, get all your questions and concerns answered
Week 14: Annual 20:12 Celebration

Weeks 15-17: Recover & Race Prep - the last few weeks of training are dedicated to rest, race planning and staying loose

Week 15: Dress for Success
Week 16: Celebrate our Community
Week 17: The Final Countdown

Our programs are progressive in nature, with each week building upon the last - slow, steady and consistent!
2020 Training Kicks off with the "Let's Go Expo" on Monday, January 6th at 6:00PM at MadTree Brewing in Oakley. This event is super informative and great energy!

At this session you'll meet your new family including the Fleet Feet owners, coaches and team, collect all of your training team swag, hear from your support crew sponsors and have a chance to get all of your questions answered either as a group or one-on-one.

First Official Group Workouts are Tuesday, January 7th in Blue Ash and Wednesday, January 8th in Oakley and West Chester
Train with Fleet Feet Running Club up to 4 times per week!
Tuesday 6:30PM in Blue Ash
Wednesday 6:30PM in Oakley & West Chester
Saturday 7:00AM Blue Ash, Oakley & West Chester locations - your choice
Sunday 7:00AM from a variety of local coffee shops with our long time running Fleet Feet Sunday Runners Group (this is a perfect long run make up option). Click here for more info to be added to the Sunday Runners weekly email list. *Note this run does not include Pace Group Leaders and is a bit more casual by nature - but still a great time!
Of course we will also provide the full workout schedule for all non-group training days so that you can keep your weekly mileage in rhythm.
Full supported group runs and walks complete with refueling stations, turn-by-turn routes (with elevation profiles), and our WORLD FAMOUS volunteer Pace Group Leaders!
Optional Saturday post-run informational clinics, injury screenings, product demo's, taste testing and more - all in conjunction with our local community partners
Comprehensive weekly newsletter (a must-read to be "in the know" on the upcoming week's training details, logistical information, group specials and events etc.)
Complete access to Training Program Coordinator, Head Coaches, Pace Group Leaders and Fleet Feet Owners and Managers (phone numbers, email, Facebook). After all we are one big family and we are here for you!
Scannable key tag for signing in and out of each group workout and tracking. Also used for emergency contact information
Complete access to Oxford Physical Therapy, our trusted medical partners, including FREE injury prevention screenings scheduled throughout training
Optional Pre-Training 5K Time Trial (on Saturday, January 4th at Summit Park in Blue Ash at 7am) for those seeking advice on which training pace group to join. (Already know your endurance run training pace? Just select that pace when you sign up (Pace Groups are every :30).)

---
Back & Better for 2020! Here's how it works:
Did you participate in either 2019 Heart Mini & Flying Pig Running Club or 2019 Fall Running Club? Then you qualify for the 2020 ALUMNI DISCOUNT.
Other programs like SpeedPlay, YearPass, Fleet Feet ELITE, HoliDAZE, or Hyde Park Blast training do not count. Participants of each training program who qualify for Alumni Pricing will receive a coupon code by email by November 2, 2019.
Alumni Pricing earns you an additional $15 off training registration. EVEN during the initial sale! See Pricing
---
Coaches & Pace Group Leaders
Meet the team that will be taking great care of you throughout training
Jen Loving - Running Club Coordinator
Katie Parker - Head Coach
Brian Lenahan - Head Coach
Heather Fencik - Head Coach
Mike Dehring - Fleet Feet Racing Team Head Coach
Jeremy Mosher - Fleet Feet Racing Team Assistant Coach
Learn More about our incredible coaches and Pace Group Leaders here. Are you interested in becoming a Pace Group Leader? See what it takes here.
---
Back & Better for 2020: More Info Coming Soon
2019 was awesome, so we're doing it again and making it bigger and better to get you to Boston.
Are you an experienced runner with a goal of faster times like a BQ? Do you seek a very structured workout schedule with intense sessions every week? Fleet Feet Racing Team Advanced Training Program is back after a massively successful first few years.
It's important to us that all levels of runners have a place to train and achieve their goals. While we strive to make sure our groups are welcoming to all runners and walkers we also want to make sure we offer a program for those who are training at a higher level which includes specific time or place goals like qualifying for the Boston Marathon or winning your Age Group at the Flying Pig Half or Full Marathon. While Fleet Feet Elite may not be for everyone, we certainly think having these folks within our group will help raise the knowledge, inspiration and coaching levels of our entire program.
Members of Fleet Feet Racing Team will remain part of the larger Fleet Feet Running Club and receive all of the same benefits, but they will be lead by their Head Coach, long time St. Xaiver High School Cross Country Head Coach, Mike Dehring. Coach Mike will lead the group through a very structured and specific training plan that will cater to each individuals overall goal.
Fleet Feet Racing Team Details
All invited Fleet Feet Racing Team Participants will receive program registration information upon acceptance
Weekly Group Workouts beginning the week of December 2, 2019 at the Oakley location

December Workouts on Wednesdays @ 6 pm & Saturdays @ 8 am
January - May Workouts on Wednesdays @ 6 pm & Saturdays @ 7 am

Fleet Feet Racing Team Coaching Update / News in weekly group newsletter
Each participant will have a one-on-one conversation with Coach Mike or Jeremy to establish goals and help formulate a training strategy and plan
Each participant will receive a Fleet Feet Racing Team Singlet
Fleet Feet Racing Team Strava Group for athletes to share workouts and communicate
Fleet Feet Racing Team Qualifications
This program will run significantly more weekly mileage at a faster pace and incorporate more race specific workouts than our traditional program. If you are interesting in joining Fleet Feet Racing Team, please fill out this brief questionnaire so we can get to know you and your running a little better. It's very important to us that we get the right people into this program so that everyone's (coaches and runners) expectations are understood and met.
---
Fleet Feet Running Club Pig Perks
No matter what Fleet Feet Running Club group you are in, you receive these perks:
Fleet Feet Running Club x Brooks short sleeve training shirt (shirts are not guaranteed after 850 registrants - some sizes are limited)
Pair of FEETURES Elite running socks (socks are not guaranteed after 850 participants - some sizes are limited)
Fleet Feet Running Club x Brooks Lifestyle Full Zip Hoody - an annual favorite! (hoodies are not guaranteed after 850 registrants - some sizes are limited)
$10 Race Registration Coupon for the Heart Mini event of your choice
20% off the Flying Pig event of your choice
Post Saturday run coffee by Rooted Grounds Coffee and healthy snacks and guilty pleasure snacks
Optional pre-race strategy session with head coach or Fleet Feet staff
VIP Invitation to our Annual 20/12 Last Long Run & Celebration
Opportunity for $20 Brooks Bucks to be used on any Brooks Apparel during training (expires 5.31.20)
$20 Fleet Feet Gift Certificate to be used during training (expires 5.31.20)
Fleet Feet Running Club Training Program
And most importantly, being part of a group who's staff, coaches, and Pace Group Leaders will all get to know you personally, understand your goals, and are truly invested in your success. We're your new training family!
More fun, surprise events and goodies along the way - we don't give it all away just yet!!
Heart Mini & Flying Pig Race Day Amenities
Covered pre-race group meeting spot near start line with secure bag and gear check
Professional and Exclusive Fleet Feet photographer on-site race morning to take team and candid pictures (digital images posted on group Facebook Page for FREE download!)
Premium post-race family and friend meet up and celebration area complete with all of the best snacks, drinks and other treats
Post Season Party
The Monday after the Flying Pig Marathon you are invited to our big post race celebration party at MadTree Brewing next door to Fleet Feet Oakley. These nights are all about celebrating you and your great accomplishment! We bring in great local food and drink as well as other nice treats to help make it a party to remember! Don't forget to wear your medals!
2020 Running Club Sponsors
The sponsors of our training programs are far more than just a logo on a shirt. Each of them will add exceptional value to your overall training experience. They bring unique qualities and products to our group that we think make our training program the most well-rounded, fun, and valuable in town! We think you'll agree!
Oxford Physical Therapy - Official Wellness & Injury Treatment and Prevention Partner (our original partners, true family)
Madtree Brewing - Official celebration beverage and home of our famous post-Pig party! (more than a great drink, these folks know how to support a community like the best)
Rooted Grounds Coffee Company - Official coffee of FFRC (their name says it all, (awesome)coffee that is rooted in the community)
Brooks Running - Our long standing Flying Pig Running Club footwear and apparel outfitter partner (Brooks' motto is one to live by, simply; Run Happy!)
GU Energy - Official Nutrition and Fueling Education Partner (GU for it!)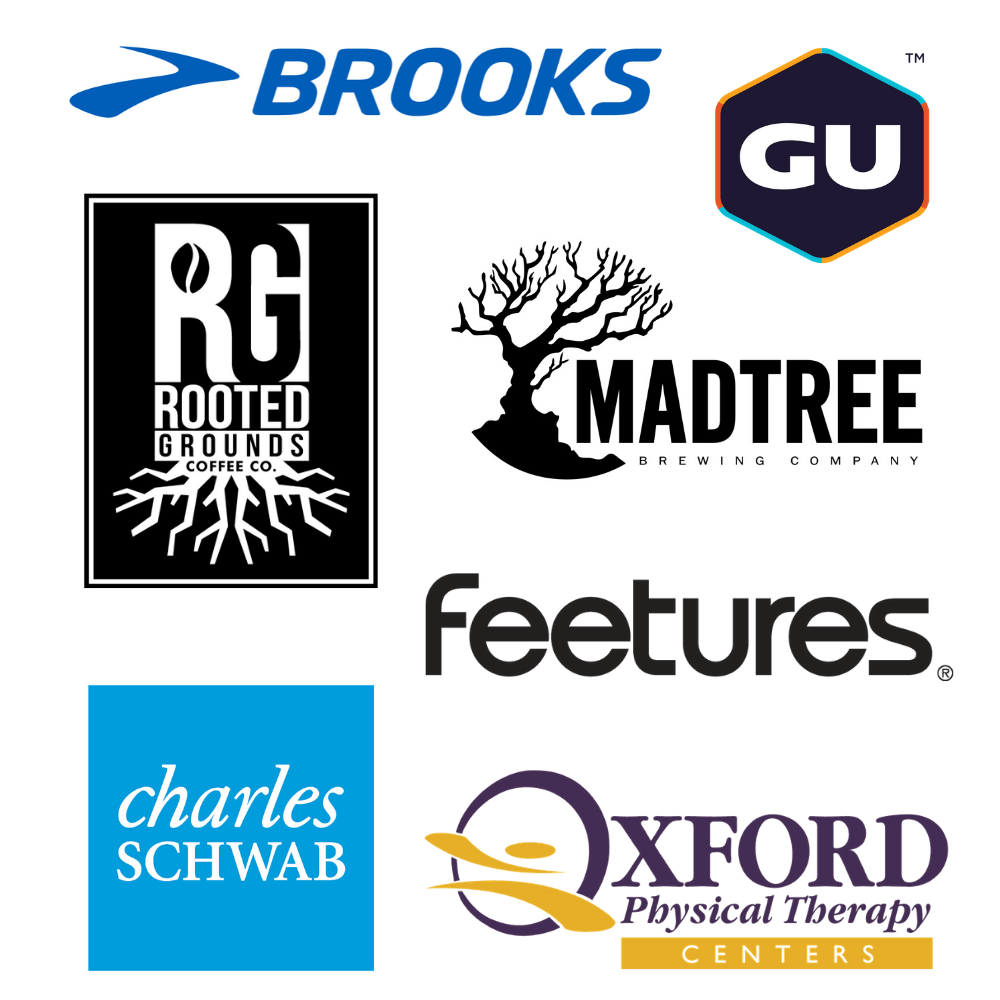 Pricing
All Programs: Registration closes February 29 - Program fee includes 8 week Speedplay Program

Early Bird Special - November 4 - 30: $150
December 1 - 31: $175
January 1 - February 29: $200

2020 Year Pass: $399 - registration closes January 31, 2020 - Program fee includes all 2020 Programs
Other Helpful Resources
Official Flying Pig Half & Full More Info »
Program Start: January 6th 2020
Program Fee: $150 through November 30
Description: Join Cincinnati's Premium Pig Training Program!