20:12 IS BACK
After more than 13 years of steady participation at the Fleet Feet 20:12 event, and with more than 1,700 runners and walkers from all over Cincinnati in 2019 we are so thrilled to be back this October at our brand new Fleet Feet at Fitfty West Brewing Company location! This unique venue will provide a fantastic pre and post run meeting place and an easy direct route onto the Flying Pig Course through beautiful Mariemont and into the city. Best of all, the burgers and beer will be plentiful when you return from your longest training miles at the Fifty West Burger Bar making it the ideal place to host Cincinnati largest, free community long run.
DETAILS
Join us for our last long run of the 2021 Flying Pig Training Season. Our city-wide annual event is geared toward people running or walking any of the Flying Pig weekend events. With the help of our fantastic charity partners, we will offer fully supported and marked 6 mile, 12 mile, and 20 mile courses that will take you along several portions of the Flying Pig course.
To show our support and appreciation for the local charity partners who lead all of the on-course aid stations at the 20:12, we will be accepting $5 cash donations on their behalf before and after the run. The money collected will be split equally between each of these great local fund raising missions. In 2019 we raised over $3,200 and we've set a goal of $5,000 in 2021! If you are able and willing, we'd love your support!
BENEFITTING CHARITY PARTNERS
Alzheimer's Association
A Kid Again
Girls on the Run
Black Girls Run
American Heart Association
EVENT PARTNERS
The run will be followed by a community celebration at the Fifty West Burger Bar with great music, friendship, food and drink! Along with Team Fleet Feet, our awesome event sponsors will join us all day to help make the last big training day of the season super fun and rewarding!
This event has been made possible for nearly 20 years because of the generous support of P&G
PigWorks CEO, Iris Simpson Bush will also join us with some encouraging words for all participants right before she officially begins the run
Brooks Running will provide a fantasic post-run spread of food
Oxford Physical Therapy, our partners in wellness, will be with us as usual to help workout any last minute kinks that you might have.
Rooted Grounds Coffee Roasters will be available pre-run at Fleet Feet
Restore Hyper Wellness will be available for post run compression therapy.
REMINDERS
A comprehensive final details emails will be sent to everyone who is RSVP by October 7th. This email will include information regarding the route, aid station locations, parking options, restroom availability and more. To ensure receiving this email please RSVP.
LOGISTICS
Where: Fleet Feet at Fifty West
7667 Wooster Pike
Cincinnati, OH 45227
When: Saturday, October 9th
7:00am - Site Opens
7:20am - Announcements Start
: 7:30am - 12 and 20 Mile Wave Start by Pace Group
8:00am - 6 Mile START
Who: Everyone! All individuals, run groups, clubs and teams are welcome!
Parking: We highly encourage carpooling. There is a good amount of parking at Fifty West but it will fill up quick due to the popularity of this event. Please arrive early and drive with friends if possible to assure easy parking. Reference the map below for all availabe parking options.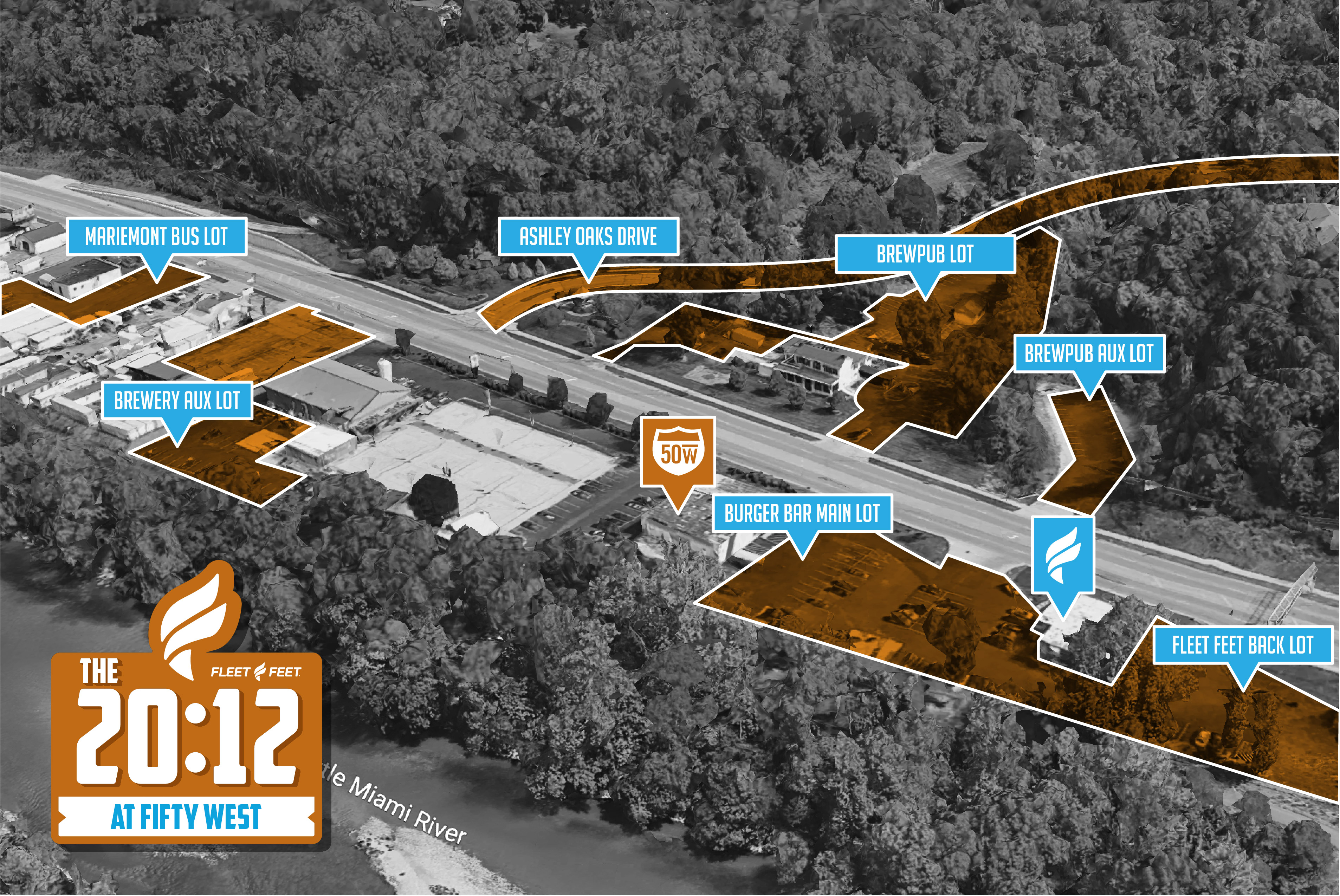 How: RSVP HERE