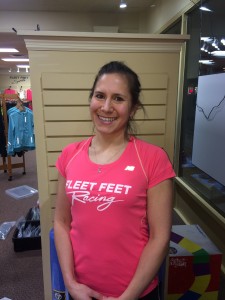 Name: Jody G.
Racing Division: 35-39 F 5th place division ranking in the city
Stats
5K: 2013 Red Legs Run: 20:27, 1st in my division, 4th overall woman
10K: 2013 Conquer The Hill: 44:53, 1st overall woman! 
Half: 2014 Heart Mini Marathon: 1:33:41, 1st in my division 102th overall
Full: 2013 Monumental Marathon: 3:27:57, 12th in my division, 530th overall.                  
Ultra: Does the 'extended' Pig count (26.45?)? :)                 
Tri: Morgan's Triathlon (individual, w/ kayak) Kayak 6mi downstream/run 6mi up/bike 18mi… results lost to time.
Running Highlights: The biggest, most exciting marathon I've run was Boston, 2013.  Despite the post-race happenings, the pre-race and race itself was just awesome.  Despite being so big (well, compared with other races I've run), it was SO well organized.  Such a positive feeling throughout the race.  It didn't hurt that I ran faster than I thought I would and achieved a nice 3min PR:)
Favorite Training Method: For me, minimal miles and focused workouts are best for helping me get fitter and faster.   I like to run fast-ish long 1x/week, medium-tempo 1x/week, and hills or speedwork 1x/week, with  maybe an easy run thrown in there.  Other days I'm working on my core/flexibility/strength with focused, intense workouts for total-body fitness.
Favorite Training Song: Burn This Disco Down, Michael Jackson, 1979!
Noteable Awards: Most Valuable Synchronized Swimmer, 1996
Say something Jody! I'm so stoked to run with the Fleet Feet team.  In 2003, after a few failed attempts at completing training for the full Pig, I decided to take a chance and run with the Fleet Feet training group.  I was worried I'd be too slow or just not fit in.  I can't think of a better risk I've taken (maybe besides my marriage, and all:) ).  Because with those ties, I've made some of my best friends and learned invaluable knowledge about running, meeting new people, and pushing my limits.
Upcoming 2014 Schedule:
Heart Mini Half - 3/16Cincy Rat Race 5K - 4/26Flying Pig Marathon - 5/4Little Miami Half - 8/17Cincy Half - 10/18