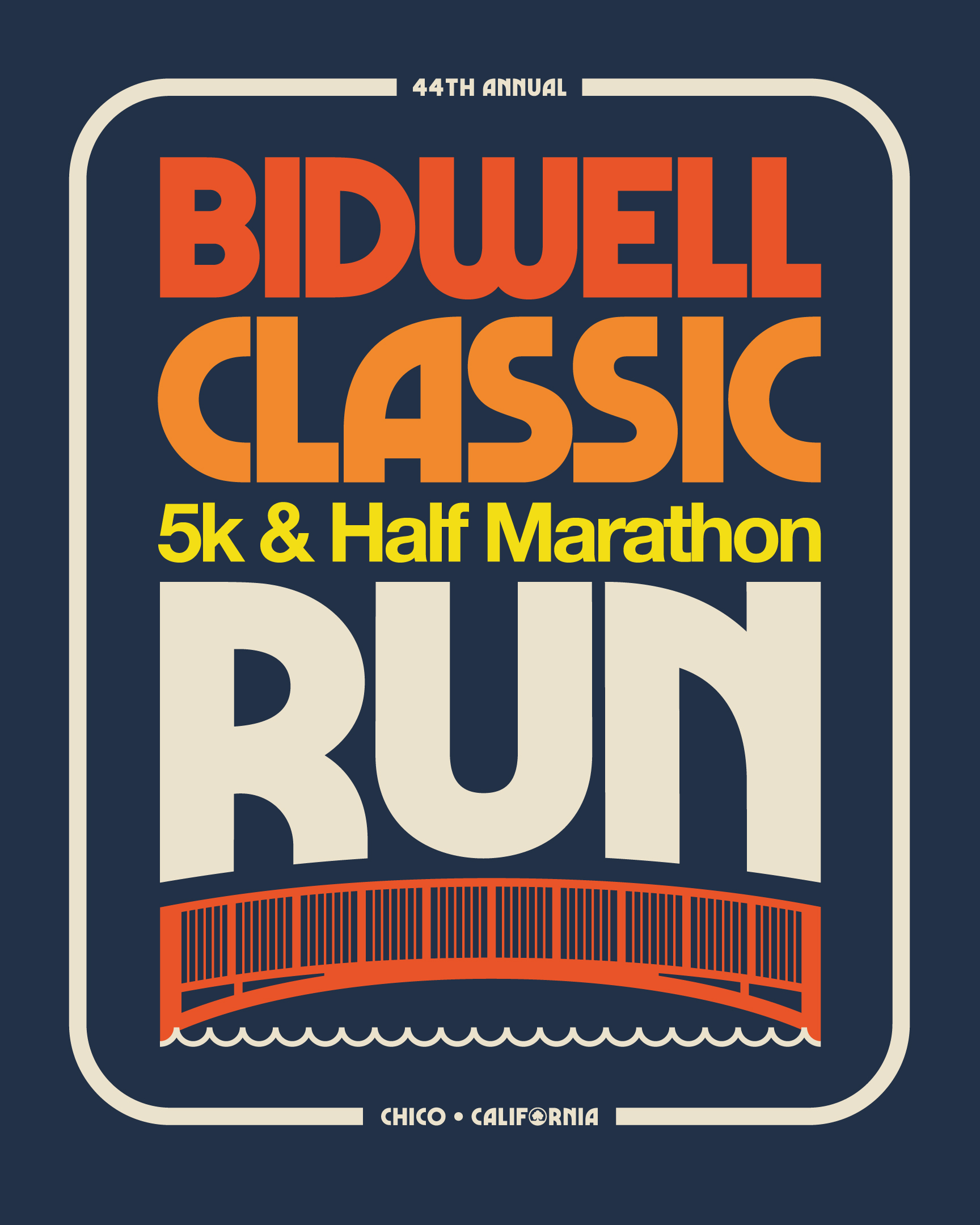 BENEFITS STUDENT ATHLETES
A substantial portion of the race entry fees go to the local high school cross country running programs. When you participate in the Bidwell Classic, you are supporting local student athletes.
REGISTRATION IS EASY
CLICK HERE to Register for the Bidwell Classic
Online registration closes at 11:59 pm on Friday March 6th 2020. In person registration will be available during packet pickup and on race day (see below for times) at Fleet Feet, 241 Main Street, Downtown Chico
START DATE & TIMES
When: Saturday March 7th, 2020
Where: Lower Bidwell Park/ Sycamore Field
5K run and fun walk: 8:00 a.m.
Half marathon run: 8:10 a.m.
Entry fees are non-refundable and non-transferable.
For special school group rates contact shawna@fleetfeetchico.com
Every pre-registered entrant will receive a 2020 race shirt. Shirt cutoff is February 19th, 2020. Any extras will be available on a first come first serve basis during the awards ceremony on race day.
COURSE CERTIFICATION AND MAPS
Both are flat, paved, and free of traffic. All events start and finish at One Mile Recreation Area in Lower Bidwell Park.
The half marathon course is map is here. And here's the 5K map.
PACKET PICKUP
Avoid race day crowds by stopping by Fleet Feet on Friday, March 6th from 10:00 a.m. to 6:00 p.m. Fleet Feet is at 241 Main St in downtown Chico. You can pick up your timing chip, race number, and shirt. See the T-SHIRTS section below for more details.
You may also pick up your packet on race day, March 7th, at Bidwell Park. Packets will be available prior to the race between 6:30 a.m. and 7:45 a.m.
We will have race-day registration from 6:30-7:30am only.
DIRECTIONS AND PARKING
To the course: Enter Chico via Highway 99 either from the north or from the south. If you are coming from the north on 99, take the Highway 32 offramp and turn right at the first intersection. If you are coming from the south on 99, take the 32 offramp and turn left at the second intersection. Now you're heading west on 32 (East 8th St). From here,
Take 8th St just under a half-mile, then turn right on Sycamore St.
Sycamore St runs a few blocks into Woodland Ave, which runs parallel to the park. The park itself will be closed to vehicle traffic on race day, so find a parking spot on or near Woodland Ave. Please be courteous and park legally. Do not park in a way that blocks local residents' entry to or exit from their homes.
There are several entrances to the One Mile Recreation Area from Woodland Ave. For race-day packet pickup, look for the sign marked "Registration and Informaiton". For any other assistance, make your way to the Information booth.
To Fleet Feet packet pickup: As above, from Highway 99 head west on Highway 32 (East 8th St).
Take 8th St about a mile then turn right on Main St. Drive north on Main St. Fleet Feet is located between 2nd and 3rd Streets. Fleet Feet's phone number is 530 345-1000.
Here's a map.
TIMING
The Bidwell Classic proudly features chip timing by Under the Sun Events
You receive the timing chip at packet pickup. The chip is associated with your race number.
Be sure to run with your timing chip. If you run with another participant's chip, your time may be recorded under their name or may not show up in the official results at all.
Cross over all the start and finish line sensor mats during your race. If you run around any of the sensor mats, your time will not be recorded. The finish line has two sensor mats. Be sure to cross over both.
The start mat is deactivated five minutes after your race start so do not intentionally start late otherwise you will receive no time.
The finish line closes at 12:00 p.m. Participants finishing beyond 12:00 p.m. may not receive a finish time. If you want an official time, be sure you can complete your event in 4 hours or less.
AID STATIONS AND RESTROOMS
5 aid stations line the half marathon course.
There are two aid stations on the 5K course.
Aid stations will serve Water from Mt. Shasta Spring Water and nutrition products.
Porta-potties are located near the start line and finish, and the park restrooms are also open on the day of the race. In addition to the park facilities near the swimming hole, more park restrooms are located to the right of the road roughly 1.5 miles into the course loop.
RULES
No dogs, strollers, bicycles, unicycles, tricycles, inline skates, roller skates, or skateboards are allowed on the course.
No pace bikes or other vehicles allowed.
In each event the fastest runners line up at the front of the wave, followed by the slower runners, followed by walkers. No children allowed to line up at the front.
Upon crossing the finish line maintain your finish line order. Move through the chute without passing or dropping behind any other finishers. Precise finish line order is necessary to reconcile chip time finish order with bib number finish order.
Nonregistered runners not allowed on course.
No shortcuts. Anyone cutting the course is disqualified.
Half marathon runners overtaking slower 5K participants give 5K participants a wide berth. Be courteous when overtaking slower runners or walkers.
Race number must be visible on the participant's front Missing race numbers, obscured race numbers, or numbers not attached to the front of the runner's shirt or shorts can disqualify the participant.
Start your race and wave at the proper time as noted above in START TIMES. For the half marathon, whether you run or walk, you are assigned a starting wave noted on your race number bib.
Entrants registering after February 19 receive shirts while supply lasts. Shirts will not be available to order after February 19, but shirts will be available for sale at packet pickup and on race morning (after the race) while supplies last.
AWARDS FOR TOP FINISHERS
5K ceremony takes place at approximately 9:30 a.m., and the half marathon ceremony at approximately 10:30 a.m.
In addition to age group awards, awards are available to select overall event placers.
Finishers Medals for the first 200 1/2 Marathon finishers!