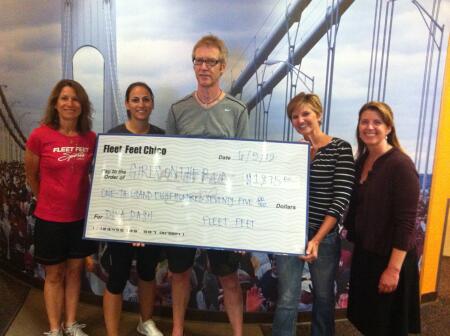 Fleet Feet announced today that, after a very successful 2nd Annual Diva Dash 5K, they were donating $1,875 to Girls on the Run of Butte County. Girls on the Run (GOTR) is a non-profit organization dedicated to encouraging young girls to build self esteem through leading active, healthy lifestyles. This is the second year that GOTR has been the beneficiary of the Diva Dash.
After a 10-week-long Spring training program, the 80 GOTR graduates were among a field of over 700 women that participated in the 2012 Diva Dash. "We love to be part of this event and to support such a great program", said Alan Rice, Co-Owner of Fleet Feet. "The organizers of the local Girls on the Run chapter and their volunteer coaches do a really important and valuable job", he added.
The 2013 Diva Dash will take place on Mother's Day weekend as has become the tradition.