A Historic Race In a Historic Stadium  
A Spectacular Finish on the 50-Yard Line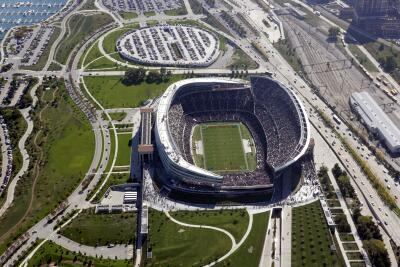 The 2017 Finish on the 50 will be more spectacular than ever.  More energy, more music, more memorable.  Make sure you secure your spot before the event sells out so that you can be a part of the experience.
How Will You Remember Memorial Day Weekend?
As you exercise your freedom to run and to enjoy life you can remember the thousands of brave men and women who gave 'the last full measure of devotion' in defense of that right to live free and enjoy the blessings of liberty in the shadow of the stadium constructed to memorialize their sacrifice for the ideals upon which our country was founded.
2017 Commemorative Finisher Medal
Participants of the Fleet Feet Sports Soldier Field 10 Mile will be rewarded after your finish at the 50-yard line with a Memorial Day themed finisher medal presented to you on the field by active servicemen and women.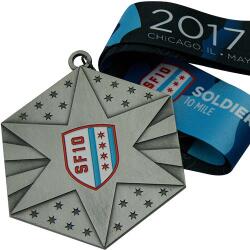 Premium Event Top
All registered participants will receive a camo-patterned technical tank! The perfect summer weight running shirt, it will surely become your "go to" when heading out for a run.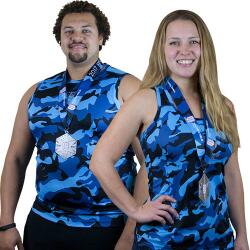 Post-Race Tailgate Party
The Fleet Feet Sports Soldier Field 10 Mile Post-Race Tailgate will be held on the Stadium Green outside of Soldier Field immediately following the race from 8:30am-11:30am.  The Post-Race Tailgate will feature live music, sponsor giveaways and much more!  10 Mile race participants (21 and older) will receive a drink ticket attached to their bib number that can be redeemed for one (1) FREE beer.
IDs will be checked at the beer serving stations.  Be sure you have your ID with you before entering the beer service stations for easy and efficient service.  Additional beer tickets and tailgate food items will be available for purchase.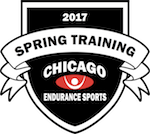 Train for the Soldier Field 10 Mile with Chicago Endurance Sports
Prepare for the Solder Field 10 Mile with Chicago Endurance Sports, the official training partner of the Solider Field 10 Mile, by signing up for their Spring Training Program. Spring Training is an all encompassing training program that will prepare you for the Soldier Field 10 Mile and give you an excellent base for any of your summer running or triathlon goals.

A team of more than 30 Chicago Endurance Sports coaches with years of experience give participants hands-on guidance through a customized 12-week training program featuring group runs twice a week while the Chicago Endurance Sports Pacers and Mentors provide assistance during weekly long runs to make sure participants follow their prescribed workouts at the right pace.

For more information about the Soldier Field 10 Mile please click on the button below to go to the race website.