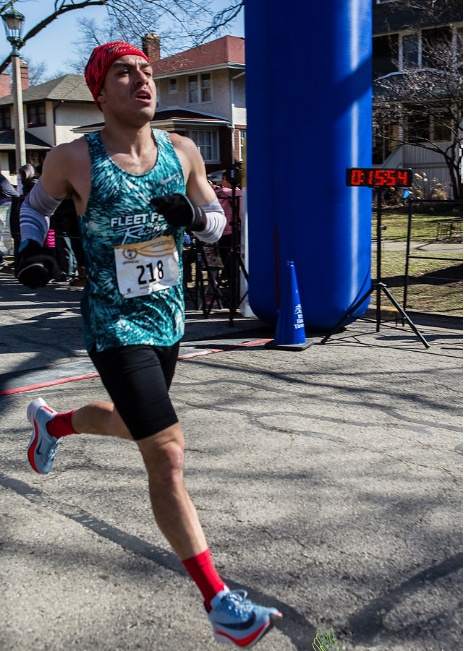 What is your racing focus?
Marathon
People, Places and Things
People: Who are some influential runners in your life?
Mr. (Joe) Newton, high school cross country coach had a huge influence, especially on work ethic, discipline, and consistency across all facets of life. As an athlete, Dathan Ritzenhein has been primarily influential as someone who has been injured a significant period of his running career but has continued to rebound time after time.
Places: What is your favorite place to run and why?
The Lakefront Path, more specifically the trail surrounding the Belmont Harbor Peninsula. You can hop on crushed rock/limestone/sand and make for an 8+ mile loop on soft ground in addition to getting a unique view of the skyline and lake.
Things: favorite running gear?
Nike Streak LT - shoe, Zoom Fly - Trainer, Apparel - Nike Essential Reflective Vest
Race rituals
What is your go-to pre-workout or race meal?
Sushi the night before. Espresso & gluten free toast/banana/honey morning of
Do you have any specific pre-race rituals or superstitions? What are they?
I wake up 3 hours prior to any race, and coffee/espresso 90 min prior to race. if I can, I 10 deep breaths with hands at bottom rib cage to relax.
What is your favorite way to celebrate a good race?
A nap followed by bountiful brunch. Mimosas included.
Past and future
What is your most memorable running moment?
In 2016, I went to spectate the Olympic Trials Marathon in Los Angeles is our teammate Brandon Mull was running, in addition to a couple of ex college teammates and friends. Not only was an incredible experience being around so many like minded individuals/geeks in such a concentrated area, but the accessibility to top tier athletes who for a bit seemed human under 80+ degree temperatures was an opportunity I was so happy to seize.
What are some of your goals for 2018?
Stay healthy - 4:15 @ Magis Mile, Sub 15 - 5k @ , Sub 1:08 Fall Half