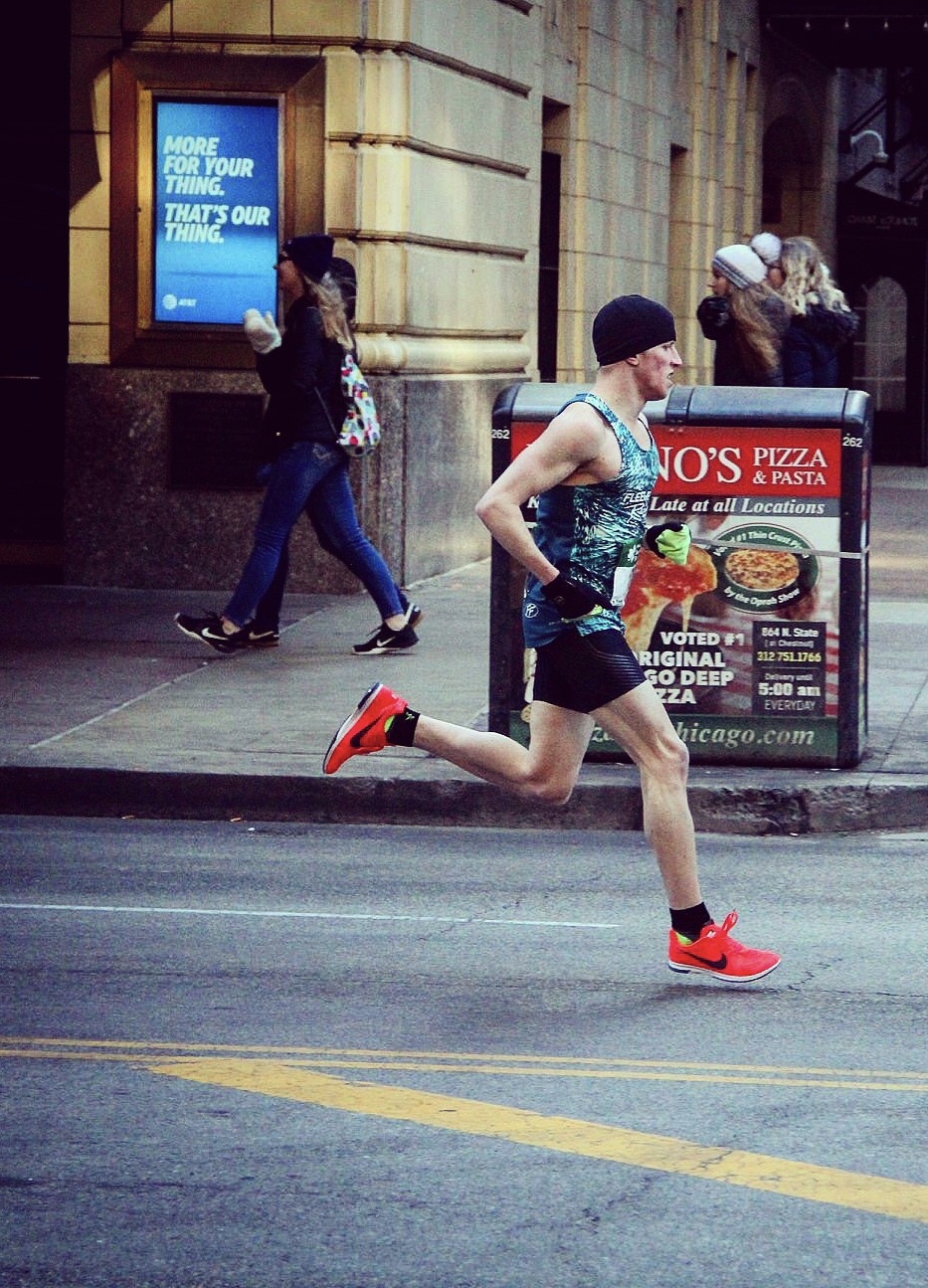 What is your racing focus?
Focused primarily on the Marathon, but I still love racing 5ks/10ks/half marathons, etc.
People, Places and Things
People: Who are some influential runners in your life?
My college coach, Coach Wiz, is my biggest influence in my running career, followed by good friend, Erik Sowinski, whose a professional 800m runner
Places: What is your favorite place to run and why?
Waterfall Glen. I love running there. It is a nice change of pace from city running. Rolling hills and crushed limestome surface to run on, which I found is a lot more forgiving on my legs
Things: favorite running gear?
I love the Vaporfly 4% shoe, specifically for long tempo work and racing half marathon/Marathon distances. It is for sure the best shoe I have ever raced in

Race rituals
What is your go-to pre-workout or race meal?
Generation UCAN, Bagel w/Peanut Butter, and a Banana
Do you have any specific pre-race rituals or superstitions? What are they?
I really enjoy Stand Up comedy, so I'll often watch a Stand-Up special on Netflix the night before to get me laughing and calm any pre-race nerves I may have. Favorite comedians include John Mulaney, Aziz Ansari, Hannibal Buress, and Kevin Hart. Suggestions welcome!
What is your favorite way to celebrate a good race?
Pizza or Burger coupled with copious amounts of beer. A cold beer after a good race tastes that much more sweet

Past and future
What is your most memorable running moment?
Running 2:28:09 @ The 2018 Chicago Marathon (a 4.5 minute personal best). After trying and missing Sub 2:30 for 4 straight marathons, eclipsing the 2:30 mark was incredibly memorable for me
What are some of your goals for 2018?
Break 2:23 in the marathon @ The Berlin Marathon, Break 1:08:00 in the Half Marathon @ Grandma's Marathon, and Break 15:00 in the 5K once again!